Passover is almost here, so I put together a list of our trusty Passover recipes for your holiday menu!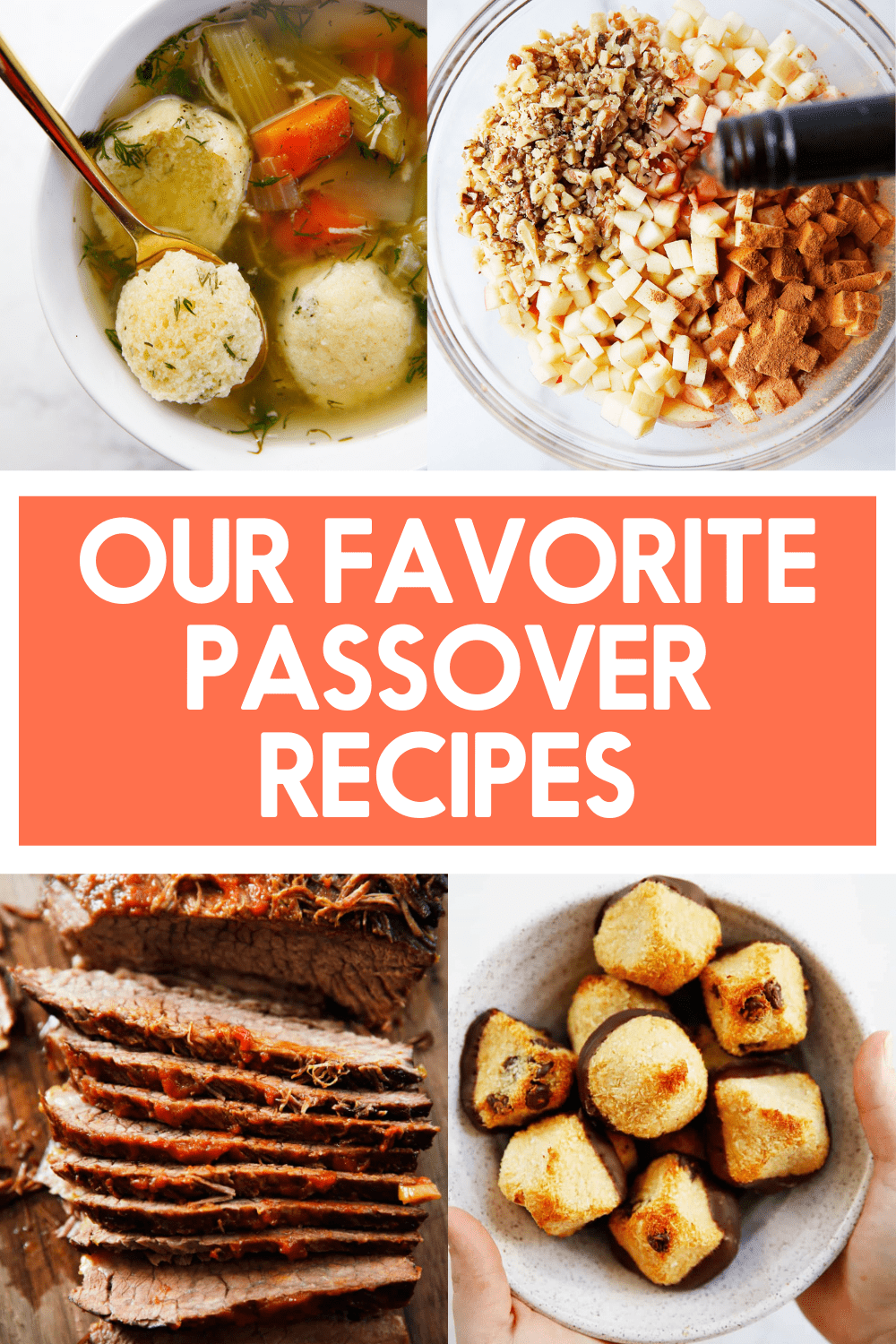 Healthy Passover Recipes
We've compiled a list of our BEST recipes for Passover. Some are traditional (like Traditional Charoset (for Passover!)) while others are just plain delicious (I'm looking at you Gluten-Free Matzo Lasagna). Regardless of what kind of meal you are planning for your family this year, we've got so many great recipes to share!
What do you eat during Passover?
Traditional recipes often include, matzo ball soup, brisket, roast chicken, potato kugel (somewhat like a casserole), Nanny's meatballs, and roasted vegetables!
What goes on a Sedar plate?
Hard boiled egg, roasted shank bone, bitter herbs, greens like parsley, the apple mix charoset, and horseradish. Plus there's matzo on the table! This is a good read if you want to learn more about the meanings of each and more!
Now, scroll through to see our favorite Passover recipes that everyone will love!
Recipes to Kick Off Passover
Instant Pot Hard Boiled Eggs (one for the Sedar plate, and optionally you can serve one next to each plate, too! A hit with the kids.)
Amazing Gluten Free Matzo Ball Soup
Other less-traditional soups to add matzo balls to:
Vegan Cauliflower Soup with Ginger and Turmeric
Chicken and Rice Soup (Note: Rice falls under kitniyot, which are foods some may not eat on Passover but many do so consider your guests here!)
Immune-Boosting Feel Good Detox Soup
Note: Read all about how I make fluffy gluten free matzo balls from a mix!
Chicken For Passover Recipes
How to Make a Spatchcock Chicken
How to Cook a Whole Chicken in the Instant Pot
Orange Cranberry Roasted Chicken
Lemon Roasted Chicken with Garlic, Capers, and Artichokes
Baked Lemon Pepper Chicken Breasts
Sheet Pan Curry Chicken and Vegetables
Other Passover Main Dishes
Easy Roasted Turkey Breast with Pear Chutney
Kale and Sweet Potato Stuffed Turkey Breast
Instant Pot or Slow Cooker Brisket
Nanny's Sweet and Sour Meatballs
Air Fryer Salmon or Horseradish Salmon
Passover Side Dishes
Harvest Salad with Maple Balsamic Dressing
Cinnamon Roasted Sweet Potatoes
Vegetable Recipes for Passover
The Ultimate Garlicky Mushroom Side Dish
Passover Dessert Recipes
None of these desserts contain chametz (leavening, wheat, barley, spelt, rye, or oats), which is avoided on Passover!
Chocolate Matzo Crack: 3 Ways (Gluten-Free!)
Caramel Apple Upside Down Honey Cake
Paleo Flourless Chocolate Cake
Gluten-Free Spiced Apple Bread
Easy Maple Meringue Cookies (Paleo & Refined Sugar Free)
The Best Winter Fruit Salad or Chia Honey Lime Fruit Salad
Chag Sameach!
P.S. Chag Semeach translates to happy festival, which is similar to saying happy holidays! Or say, Chag Pesach Samech for happy Passover festival!
Pin for later: