Our Favorite Whole30 Recipes
Planning your first Whole30 and looking for some inspiration? We've put together a list of our favorite Whole30 recipes that are both delicious and easy to prepare. Ranging from breakfast through dinner, these recipe will satisfy your tastebuds and won't leave you feeling like you are deprived of anything!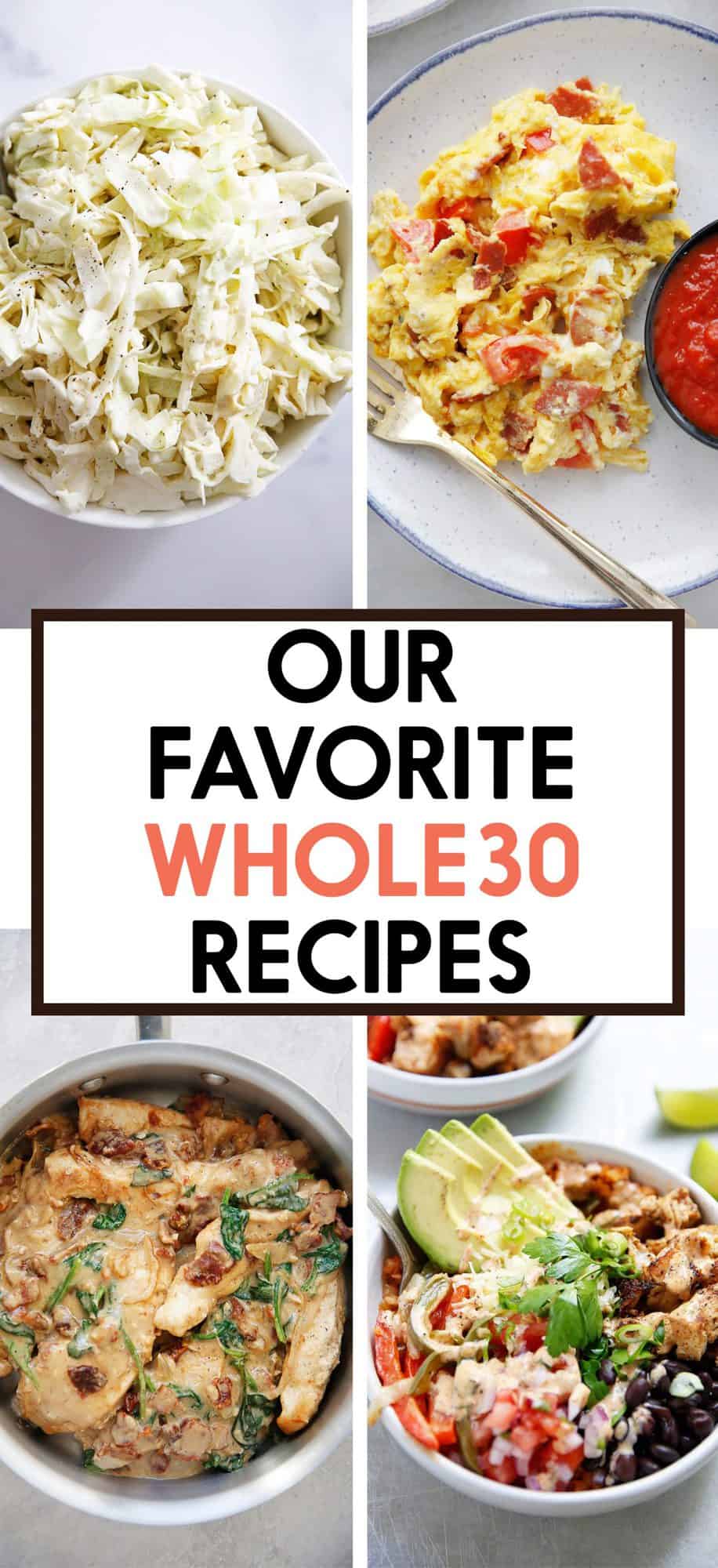 Our Favorite Whole30 Recipes
At first, a Whole30 may seem intimidating if you are new to the world of elimination certain food grounds, such as grains, gluten, dairy, sugar, and legumes (to name a few). But I'm all for the freedom that you can gain by figuring out what foods are not working for your body and ridding yourself of any bad food habits. Arming yourself with delicious and easy-to-prepare recipes that leave you feeling satisfied is an easy way to ensure success! I've rounded up my favorite Whole30 recipes that will help you accomplish your goals, ranging from breakfast through to dinner. Just make sure to check any notes about possible swaps or omissions that are needed for compliancy. Check out here for Instant Pot Whole30 recipes.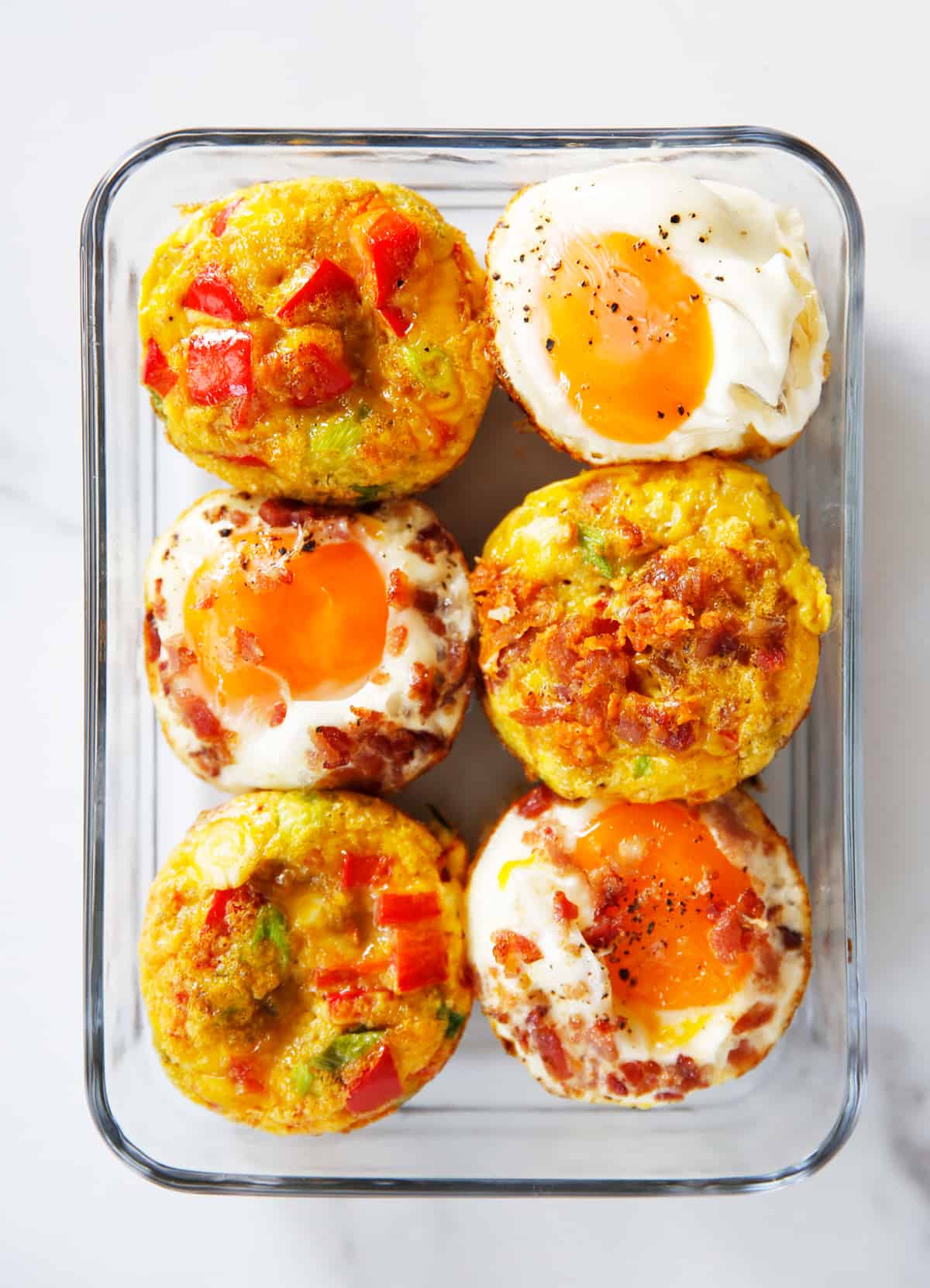 Whole30 Recipes for Breakfast
---
Saucy Chorizo Skillet Baked Eggs: These baked eggs great addition to your next Sunday brunch or perfect for meal prep. Make sure to omit the beans and and use compliant Whole30 chorizo.
How to Make Sweet Potato Toast: Sweet potato toasts are easy to make, nutrient-dense, and there are so many options to shake up your toast topping game. Sweet potato toast is a great fiber-rich vegan healthy toast replacement! PLUS, they are super easy to make! We offer a few different
Deviled Eggs with Bacon and Chives: These are your answer for an easy-to-make appetizer to please a crowd or perfect for a breakfast or snack! They are so delicious and can even be made ahead of time! The addition of bacon and chives bump these deviled eggs up to the next level.
Breakfast Prep Baked Egg Cups: These healthy baked egg cups make the perfect breakfast meal prep for when you are rushing out the door but still want your protein-packed nutrient dense meal. Or perfect for make ahead snack.
Loaded Paleo Breakfast Hash: The spicy chicken sausage and bacon pair so perfectly with the sweet potato, onions, and peppers. It can be eaten as is for a veggie and protein filled breakfast, or topped with an egg! Make sure to find compliant sausage.
Sheet Pan Classic Breakfast: Ever thought of cooking Eggs, Bacon, & Home Fries all together it one pan? This breakfast bake is perfect for a weekend brunch or breakfast to feed a crowd with little to no mess! Make sure to use Whole30 compliant bacon.
Easy Pizza Scramble: This scramble has all the pizza flavors you love, while being low carb and keto, and FOR BREAKFAST. I mean, who doesn't want pizza for breakfast? I serve mine with warm marinara sauce for dipping! Make sure to omit the cheese on this for Whole30!
Cauliflower Hashbrowns: Looking for a low carb hash brown alternative? These Cauliflower Hash Browns are the perfect addition to any breakfast, and they freeze so well, too!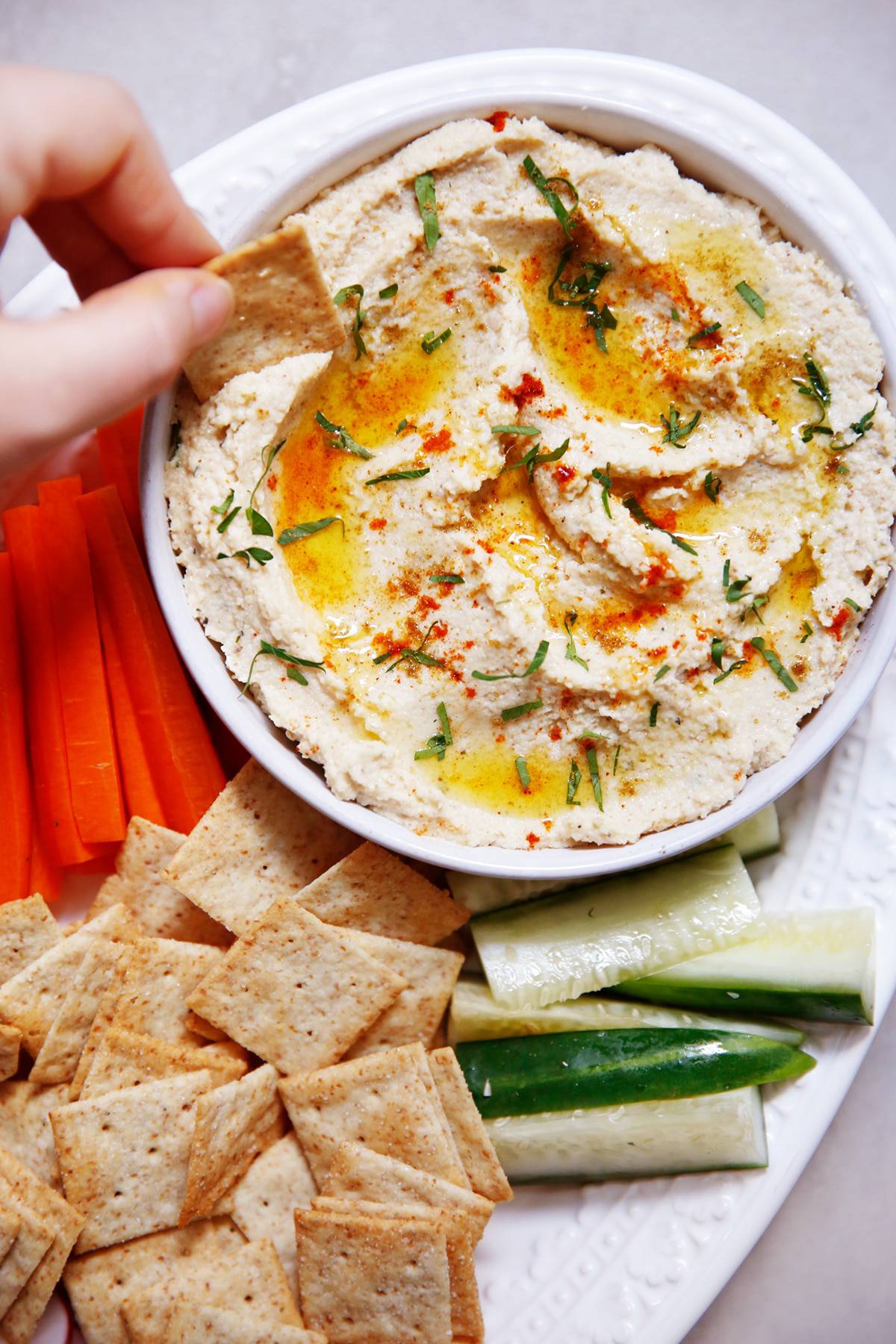 Whole30 Recipes for Side Dishes and Appetizers
---
Easy Taco Slaw: This 3-ingredient cabbage slaw for tacos is the easiest addition to a quick and delicious taco night. Made in minutes with cabbage, mayo and lime, it adds a nice creamy acidity to your favorite taco (or non-taco) dish. Serve with chicken, fish, or carnitas (or really anything) and you'll be happy you did!
Chili Garlic Chicken Satay Skewers: Packed with flavor and are so simple to prepare, these skewers make a delicious appetizer or light meal. Omit the honey for Whole30 compliance.
Israeli Salad: This one-bowl salad is the perfect refreshing side-dish! I like to make a big bowl of it and keep it in the fridge all week long! The flavors from the lemon, tomatoes, onion, and herbs go so nicely with almost anything!
Cauliflower Rolls: These rolls are made out of cauliflower and they are such a hit! They are the perfect low carb Whole30 friendly roll alternative. Top it as suggested with the Everything Bagel spice, or leave it plain.
Easy Spaghetti Squash: Cooked spaghetti squash is a great nutrient dense, gluten-free, lower carb alternative to pasta or rice noodles. There are two great methods how to cook spaghetti squash and we're giving you all the details you need to know!
Easy Cauliflower Rice: We're offering two different methods on how to make it, giving you all the tips you need to know about storing it and letting you in on our favorite way to cook it up.
Cauliflower Hummus: This simple-to-prepare recipe is quick to put together and is a great vegan and legume-free alternative to traditional hummus. It's Whole30, Keto and Paleo friendly and truly you wouldn't notice it wasn't traditional hummus.
Jalapeño Popper Dip: A perfect appetizer to serve for Game Day and can conveniently be prepared ahead of time and baked up right before serving! It has all the classic flavor of Jalapeño Poppers without having to individually make them.
Braised Collard Greens with Bacon: A perfect combination of smoky, salty, sweet, sour and umami with an optional hint of heat if you want! These vitamin rich vegetables are the best addition to a southern fried chicken dinner, or they make a great side with other braised meat and vegetables.
Moroccan Chermoula Carrots: Perfectly cooked tender carrots that are tossed in a flavorful and easy chermoula sauce! They are a delicious and easy carrot side dish recipe to accompany any meal.
Dairy Free Mashed Potatoes: These taste just like the classic version. They are everything you want in that comforting and warm side dish, but lightened up to include chicken broth and olive oil. They're soft and creamy and a cinch to make.
Chipotle Slaw: This slaw is smoky and spicy and made special with spiralized veggies! Perfect to bring along to a potluck or to serve at your next BBQ.
Herb and Cucumber Salad: This is a refreshing, flavor-packed, and super simple salad to throw together. It uses all of the fresh herbs (parsley, dill, and mint) and features the fresh, cool cumber to complement any dish you're serving up.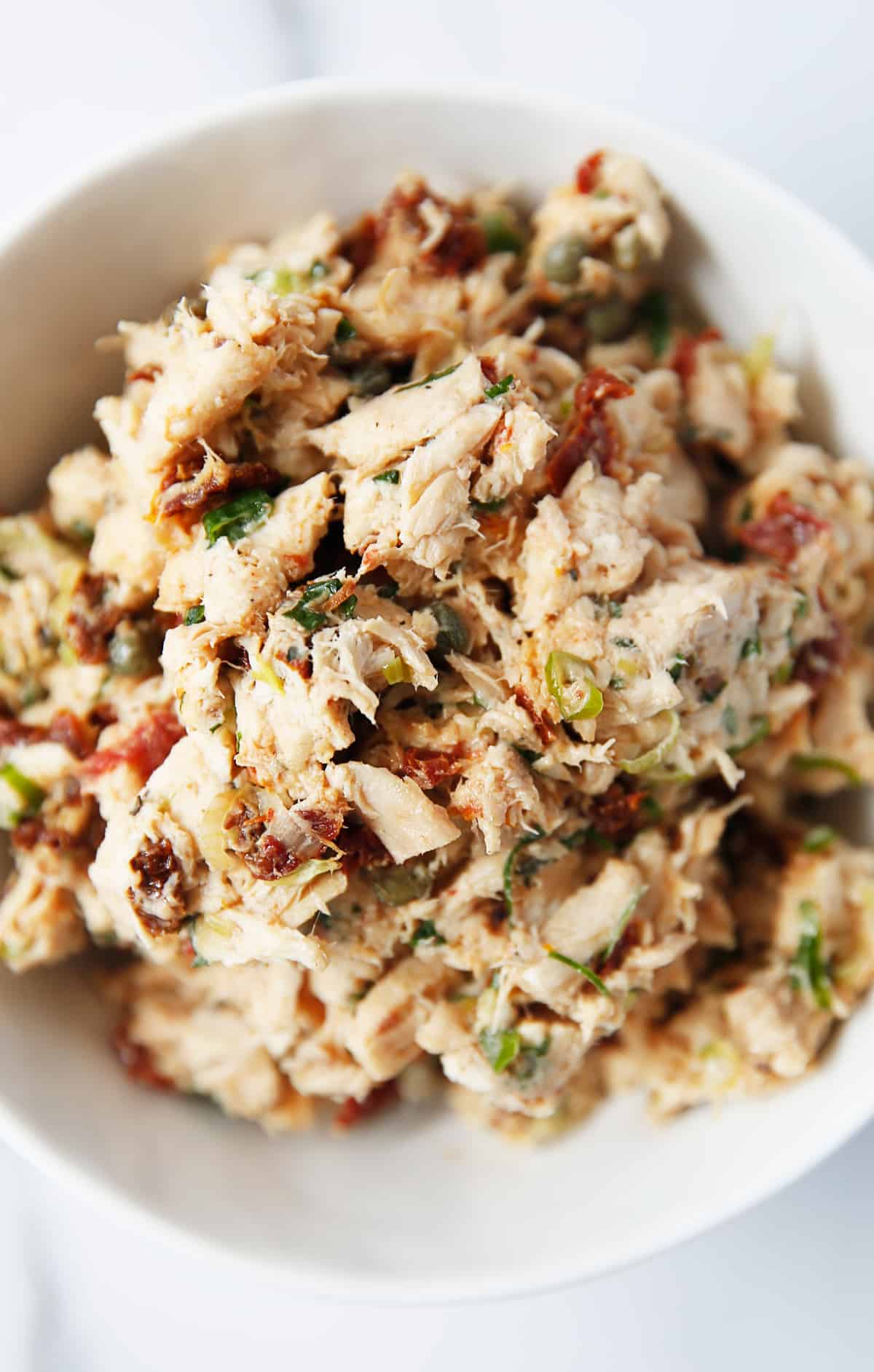 Whole30 Recipes for Lunch
---
Sun-Dried Tomato Chicken Salad: The classic lunch staple got an Italian-esque makeover: a mayo based chicken salad with sun-dried tomatoes, capers, parsley and white wine vinegar. It's salty, tangy and really delicious. Serve in lettuce wrap or over a salad.
Beef Barbacoa: Made in either the Slow Cooker or Instant Pot, this meal prep dish is so flavorful and versatile. Served with cauliflower rice, cole slaw, or a salad. Make sure to omit the sweetener for Whole30.
Taco Salad: It's simple to prepare, deliciously satisfying, and customizable with your favorite taco toppings! Made in under 30 minutes, it's the perfect make ahead lunch (or dinner). Make sure to omit cheese and use a Whole30 compliant salsa!
Lettuce Wrapped Sandwich: These low-carb, keto, and Whole30 sandwiches are easy to make once you've mastered the lettuce wrap! Make sure to use compliant deli meat and omit any cheese.
Loaded Chicken Salad Four Ways: Make the perfect customizable lunch! Make a big batch at the beginning of the week and enjoy it all week long.
Asian Beef Bowls: This healthy asian beef recipe, made mostly in the slow cooker, is the perfect make ahead lunch or dinner! It's paired with cauliflower "rice" and veggies. Double the recipe and you can also make it dinner one night and lunch for the next few days! Omit coconut sugar for Whole30.
Mediterranean Tuna Salad: This salad, made without mayo, is packed with veggies, artichokes, capers, avocado, a delicious red wine vinaigrette. It is the BEST lightened-up tuna salad perfect for lunch any day of the week and great for meal prepping! Make sure to omit the beans to be Whole30 complaint.
Thai Basil Ground Turkey Bowl: A flavorful meal-prep option that is customizable and easy-to-make. It's packed with veggies to fuel you for your busy days.
Salsa Chicken: This two-ingredient chicken recipes is made in the Instant Pot or Slow Cooker and is the perfect, easy meal prep recipe. It's simple, fast, and makes the perfect shredded chicken to put on top of salads, in tacos, in burrito bowls, and so much more!
Copycat Chipotle Chicken Burrito Bowls: Delicious Mexican cauliflower rice paired with homemade pico de gallo, avocado, and perfectly seasoned grilled chicken is meal prep perfection. Omit beans and cheese for Whole30 compliant!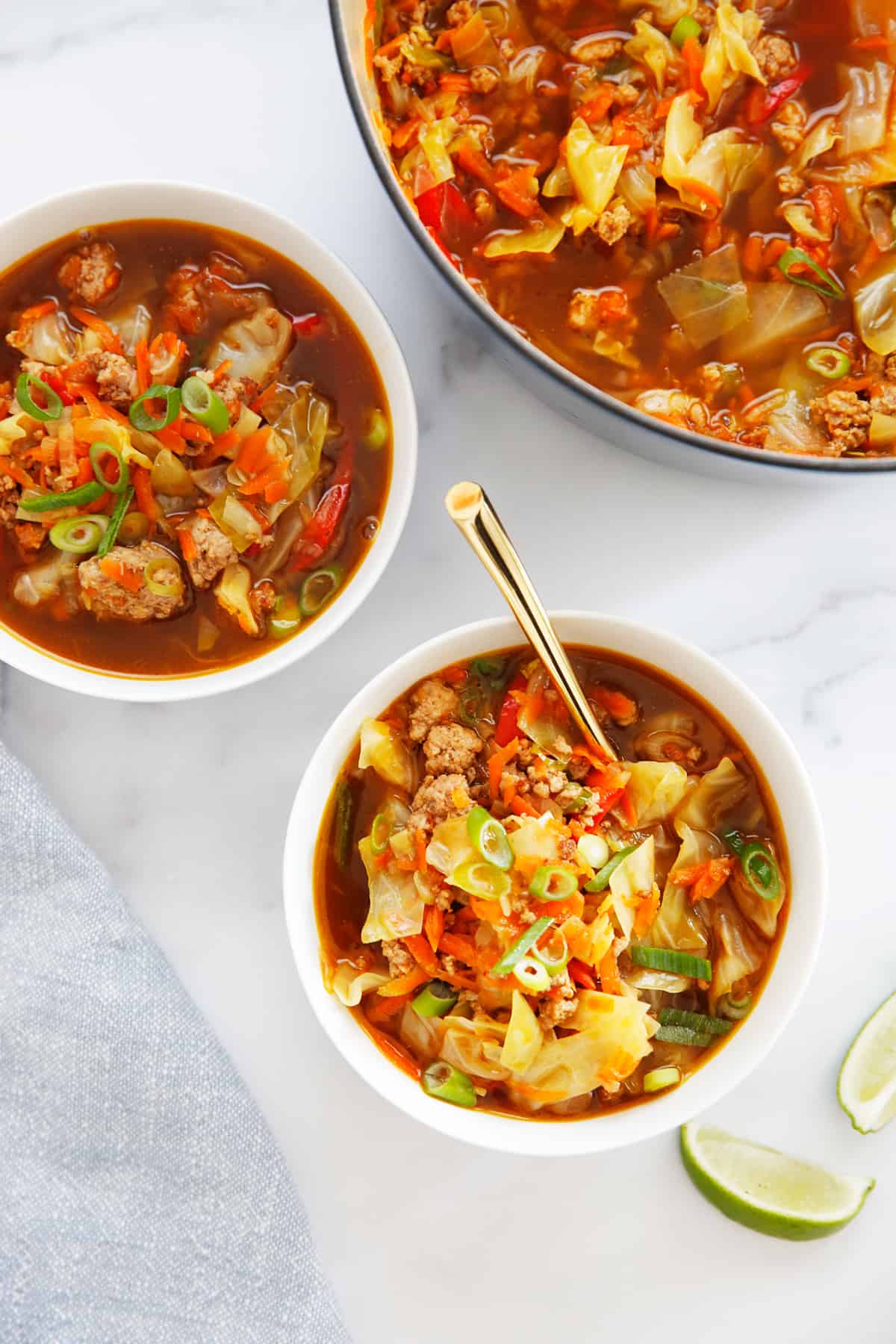 Whole30 Dinner Recipes
---
15-Minute Chicken Tacos: Using our tried and true taco seasoning blend, these taco chicken meat is so flavorful with minimal effort involved. Serve it with all your favorite taco toppings and call it dinner!
Stuffed Pepper Soup: Loaded with all of your favorite stuffed pepper flavors, but without the hassle of having to actually stuff peppers. It's easily cooked in either the crock pot or the Instant Pot. For Whole30 and Paleo friendly omit the white rice and substitute in cauliflower rice at the end of cooking.
Skillet Pork Chops with Apples: The pork chops are perfectly cooked and paired with sweet and savory fall flavors like sage, apple cider and apples.
Chipotle Mushroom Tacos: These easy meatless tacos are hearty and flavorful. Serve it up with your favorite taco fixin's for dinner on the table in well under 30 minutes!
Air Fryer Buffalo Cauliflower Nuggets: Cauliflower to the rescue again! These buffalo cauliflower nuggets made in the air fryer are downright addictive, with a crispy exterior coated in an easy spicy buffalo sauce. Make sure to use ghee instead of butter.
Creamy Spinach and Artichoke Chicken: Comfort food turned easy weeknight dinner! This dairy-free dish is so creamy and tastes just like spinach artichoke dip but with fresh healthy ingredients served for dinner!
Egg Roll Soup: A weeknight dinner that is full of the flavor of an egg roll, without any of the fuss of wrapping and frying! This veggie and pork soup is family friendly and would make great leftovers!
3-Ingredient Dijon Salmon: This is my go-to easy dinner when I have nothing planned. This three-ingredient Dijon Salmon is made in ten minutes (yes, ten minutes), and is cooked to perfection and SO flavorful. It's the perfect salmon recipe for a busy weeknight.
Healthy Turkey Chili: This hearty stew is easily made on the stove-top or right in your Instant Pot pressure cooker for an easy turkey chili recipe! Simply swap out turkey for beef to make the best beef chili recipe! Make sure to omit the beans for Whole30 compliancy.
Sheet Pan Cod with Vegetables: This fish is served with a lemon herb sauce and tender veggies. It's the ultimate sheet pan fish dish everyone will love!
Creamy Tuscan Chicken: This easy weeknight dinner is creamy without any dairy, with bacon, sun-dried tomatoes and spinach and so delicious.
Curry Butternut Squash Noodles: A weeknight meatless dinner that is full of flavor and packed with veggies! A delicious curry sauce with tender butternut squash "noodles", peppers, onions and spinach can be prepped and cooked in under 30 minutes.
Whole30 Recipes for Dinner
Instant Pot Beef Short Ribs: This decadent dinner is naturally Paleo and Keto and Whole30 friendly and when paired with a side of quick cauliflower or potato mash, will be the hit of the dinner table! Omit sugar for Whole30 compliance.
Hot and Sour Soup: This vegetarian weeknight dinner that comes together quicker than it takes to order from your neighborhood takeout! It's packed full of veggies, is so warm and comforting.
Gluten Free Meatloaf: An easy main dish that will please just about everyone. It's a comfort food classic that is easy to make and so delicious.
Grilled Skirt Steak with Italian Salsa Verde: A flavorful inexpensive cut of meat that is tender and delicious. Top it with the savory salsa verde and you have an easy dinner win! Serve with a side of roasted sweet potatoes, broccoli or cauliflower rice.
Cajun Blackened Fish: This dramatic looking dish is actually simple to make, requiring just a few spices, a piece of fish and a hot pan! Serve it with a light salad or slaw and you've got dinner in under 20 minutes!
Zoodles and Homemade Meat Sauce: A hearty meal your family will LOVE! The meat sauce is cooked up quickly and is served over lightened up zucchini noodles making for a healthy weeknight dinner! Serve without cheese for Whole30 compliance.
Roasted Chicken Dinner: The perfect one-pan-meal. The tender and juicy chicken is roasted with garlic and herbs and the accompanying vegetables are baked underneath the chicken. It's a hands-off meal that is easy to prep, so satisfying and versatile as it can be made with any veggies you have on hand.
Sheet Pan Steak Fajitas: Juicy steak tips roasted alongside classic fajita style vegetables! A set it and forget it dinner that you can customize for serving based off your own dietary needs.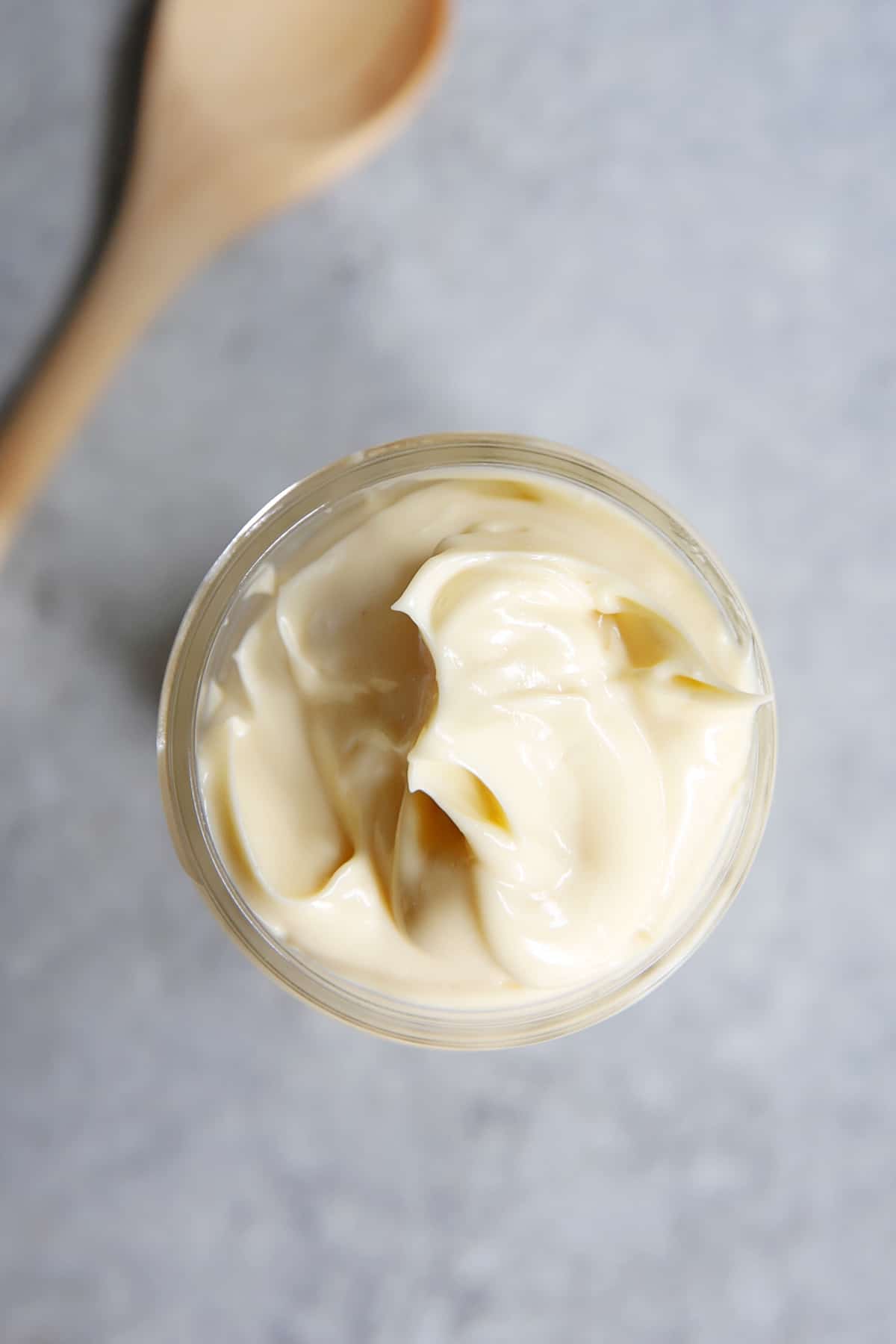 Homemade Whole30 Condiment Recipes
---
Dairy-Free "Cheese" Sauce: This flavorful and creamy non-dairy sauce is the perfect replacement for a classic cheese sauce. It's simple, nutrient-dense and hard-to-believe it's not actually cheese.
Whole30 Mayo: This Homemade Whole30 friendly Mayo, made with avocado oil, is so easy to make, using a handful of ingredients you likely already have on hand and made in under 5 minutes! Want to make it even more special? Turn that homemade mayo into 4 easy and delicious flavored ones in just a matter of minutes.
Easy Taco Seasoning: Sometimes store-bought taco seasoning has strange ingredients that are not Whole30 compliant, like cornstarch. This easy homemade version takes a few minutes to gather and mix up so you can have a quick taco Tuesday.
Chicken Broth: This homemade chicken broth is flavorful and delicious in various recipes or just to sip on! Instead of buying chicken to use, save your leftovers and veggie scraps to make TONS of chicken broth at an affordable price, without any strange ingredients. Made in the Instant Pot, or slow cooker.
5-Minute Ají : This is a Colombian-Style Salsa. It is perfect with tortilla chips, on top of meat, potatoes, rice, eggs, or really, put it on ANYTHING. This salsa recipe can be made mild or hot, as desired, and of course doesn't contain any sugar.
How To Make Fresh Tomato Sauce This Freezer Friendly Tomato Sauce is a labor of love, but so so worth it! The perfect way to make use of all of these fresh tomatoes during tomato season! Or, you can use this as a guide on making tomato sauce with canned tomatoes.
Best Ever Chicken Rub: This DIY spice rub is the perfect way to brighten up chicken, either for the grill or for indoor cooking.
Homemade Guacamole: Surprinsingly store-bought guacamole can have some strange ingredients added to it, with sugar being one of them. These easy Homemade Guac recipe is one everyone should have in their back pocket for taco night, or any old night. My version has 7 ingredients, but really only 3 are absolutely essential, and you can leave out any you don't like.
Classic Burger Seasoning: Want to know how to easily kick the flavor of your next burger? If you've got 5 minutes, than you can put together this easy homemade burger seasoning recipe and always have some on hand for grilling night!
DIY Everything Bagel Seasoning: Love Trader Joe's Everything but the Bagel Seasoning but your store doesn't have it in stock frequently? Our recipe is so easy to make, with likely ingredients you already have on hand so no need to go hunting for it in store anymore!
Looking for Instant Pot recipes? Check out this page for all of our Whole30 favorites!
1 comment
December 31, 2019
This website may at times receive a small affiliate commission for products that we shared with you in our posts. Although we may receive a commission for linking certain products, there's no additional costs to you and all of our opinion and suggestions are 100% our own and unbiased. That's our promise to you!
Subscribe to get our FREE clean eating guide!
Join our email list TODAY to start recieving our newsletter weekly, access to exclusive content and deals, *and* a FREE complete 24-page clean eating guide!