Everything in moderation, and that includes dessert! Dessert should first and foremost be delicious, but that doesn't mean it can't be healthy too! We've compiled a list of our best Healthy Dessert Recipes ranging from the easy-to-make sweet treats to the weekend baking projects!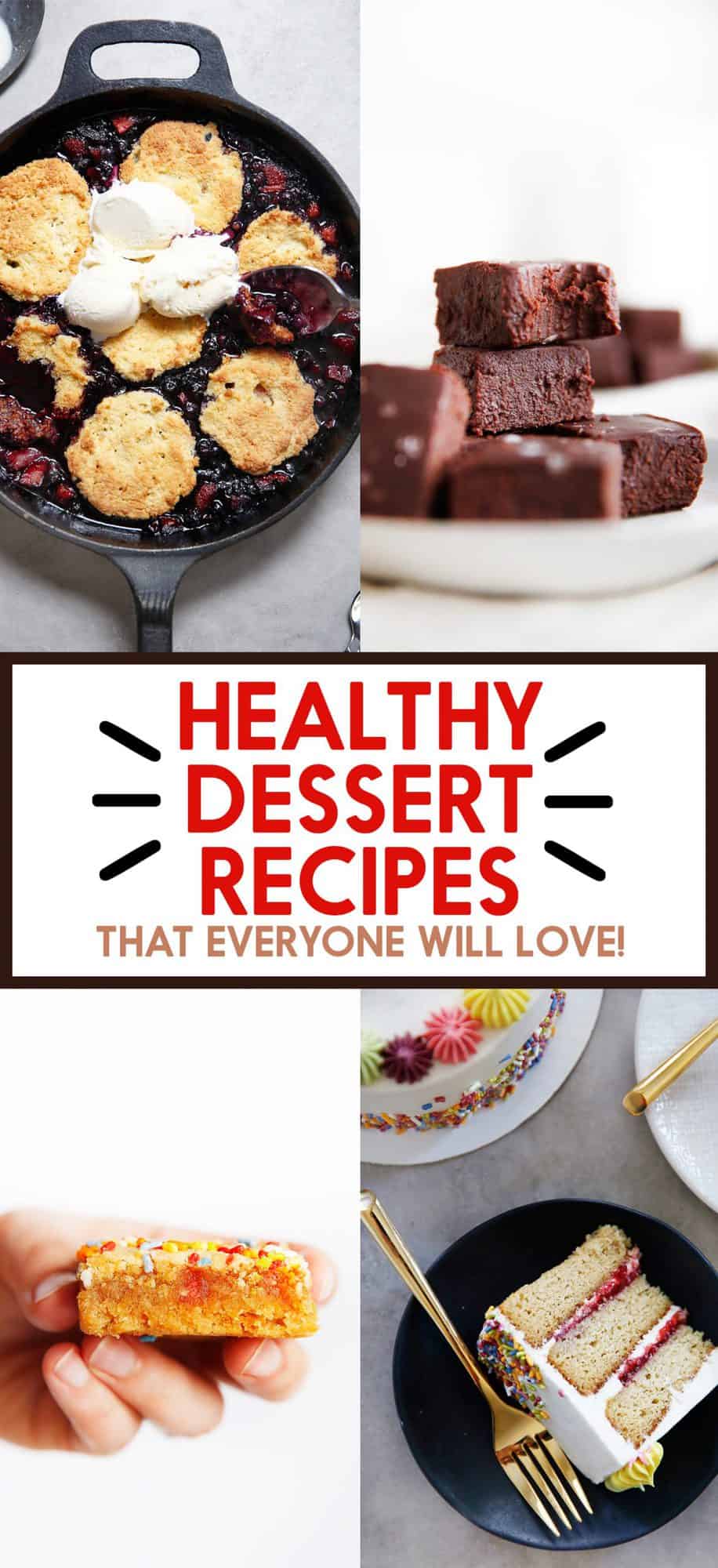 Healthy Dessert Recipes
Here at Lexi's Clean Kitchen we are all about creating lightened up dessert recipes that taste every bit as good as their traditional counterparts, but with the mindset of everything in moderation. This collection of recipes ranges from some lighter fruit recipes to the more decadent chocolate recipes with a little bit of everything in between.
Healthy Desserts with Fruit
Easy Slow Cooker Baked Apples: These easy-to-make "baked" apples have just the right amount of sweet, they swarm your home with the most delicious fall scent, and they are super EASY to throw together.
Apple Nachos: An amazing kid-friendly snack that is both nutritious and fun! It can be made in under 10 minutes and is perfect to serve at a playdate or send to school to celebrate a birthday. They can be customized based off of what you have on hand and we guarantee will be a hit!
Berry and Cream Dairy Free Parfait: The perfect healthy treat when looking for a simple dairy-free and vegan friendly option! They come together quickly with only 4 ingredients and just the right amount of sweetness!
Chia Honey Lime Fruit Salad: The perfect refreshing fruit salad to serve all summer long! This dish is perfect for a party or BBQ and can be made ahead of time! The sweet fruit is complemented with the zesty lime and is customizable based on what fruit is available for you.
Chocolate Kiwi Pops: Easy, customizable, and totally perfect for the summer months these Kiwi pops or bites are coated in chocolate and drizzled with your favorite toppings! Such a simple, fun and healthy-ish treat for kids.
Hassleback Pear Crumbles: A delicious and fun treat that can be made to accommodate as few or as many people you are serving! A twist on a traditional Pear Crumb pie, these single serve crumbles are lighter than your average pie!
Healthy Berry Cobbler: It's packed with fresh or frozen berries and topped with the best gluten-free biscuits. It will be your favorite dessert of summer!
Cherry Pie Bars: They have all the deliciousness of a cherry pie without the time needed to actually making one! It uses nutrient-dense almond flour to make the crust and the crumble on top and is packed with fresh cherry flavor. These bars are gluten-free, dairy-free friendly, and the ultimate summer dessert!
Grain-free Cranberry Apple Crisp This healthy apple crisp is made without oats, with a pop of color and tartness thanks to added cranberries and is sweetened just right!
Peach Raspberry Crisp: Packed with Summer fruit, just the right amount of tartness, and so so flavorful! It will definitely be a staple for Summer gatherings with friends and family! It's grain-free, dairy-free, egg-free, and so so simple to make!
Apple Galette This is similar to an apple pie with a buttery crust with thinly sliced juicy apple, but easier to put together! It's the perfect dessert to serve during the holidays or a fun weekend baking project to celebrate the fall season! It's made using unrefined sweeteners and uses the BEST gluten-free crust.
Easy Healthy Desserts
Chai Popsicles: These 4-Ingredient popsicles couldn't be easier to make! And they have such a warm and unique flavor, and naturally separate in the freezer to make a really beautiful layered look! They're also dairy-free, Paleo and vegan friendly.
Gluten-Free Edible Cookie Dough Dip: Think all of the delicious and creamy flavors of regular cookie dough, but without flour or the eggs… snack time, or dessert time, WIN!
Homemade Jello: It's so much healthier than traditional jello, and made with real fruit! There are no artificial colors or flavors and no added refined sugar in this recipe.
Creamy Peppermint Coconut Cups: These Creamy Peppermint Coconut Cups are the perfect treat to have in the fridge! They are chocolate-y, peppermint-y, and coconut-y! They are keto-friendly, too! Perfect keto cups!
Espresso Candied Pecans: These Espresso Candied Pecans are the perfect DIY gift giving treat! They are easy to make, and you can make large batches to package up for friends and family this holiday season!
Healthier Chocolate Desserts
Healthy Fudge: This 5-Ingredient fudge is easy to make, made with minimal ingredients, has the perfect texture, is customizable with your favorite fudge add-ins, is packed with healthy fats, and is a rich and decadent treat that everybody will love!
Chocolate Dessert Cups: The perfect no bake healthy treat that are simple to make but so impressive! You won't believe how easy it is to make these beautiful chocolate cups that you can fill with anything from a simple fruit mix to a decadent chocolate mousse!
Paleo Chocolate Truffles: Made with a few simple ingredients and are down-right delicious. This decadent chocolate treat is simple to put together but looks stunning! Aside from being Paleo Friendly, these truffles are also vegan and don't have any added refined sugars. Make these for that certain holiday for lovers, or really anytime of year!
Dark Chocolate Almond Butter Cups: The healthier cousin to the beloved store-bought peanut butter cups. Making them at home is easy, using a handful of wholesome ingredients like almond butter, dark chocolate and maple syrup, these chocolate cups are paleo-friendly and made without any refined sugars.
Fudgesicles: They are so rich and creamy, but made without any dairy at all! Made simply with only a handful of ingredients these naturally sweetened popsicles will be loved by both kids and adults alike.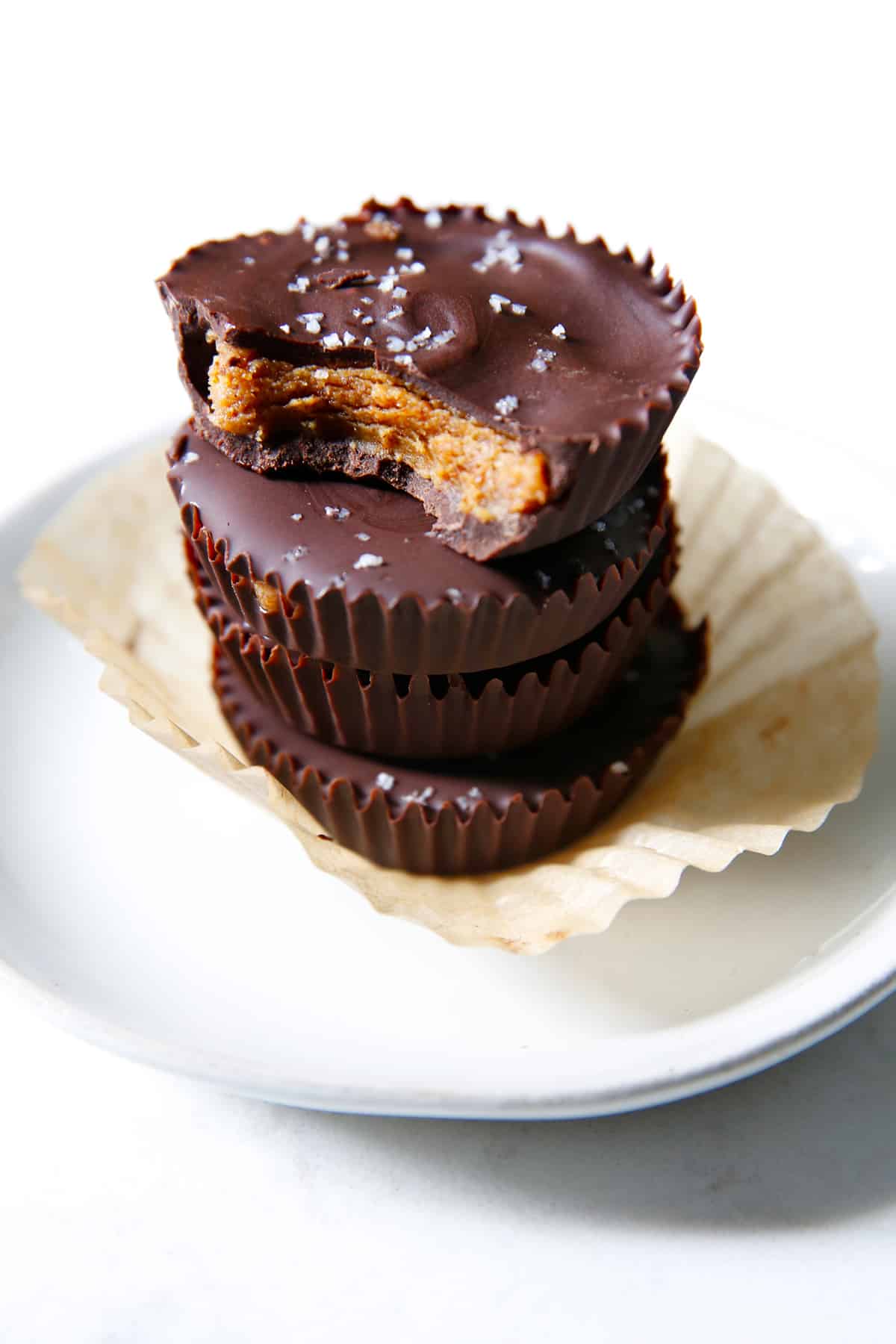 Healthy Brownies, Bars and Cookies
Paleo Thin Mints: Looking for a healthier version of your favorite Girl Scout Cookie? These Paleo Thin Mints are just that! Crunchy, minty, chocolate-y, and just the right amount of sweetness! They are the REAL DEAL, while also being gluten-free, grain-free, dairy-free, and refined sugar free!
Funfetti Gluten Free Blondies: If you like buttery, chewy and dense blondies that are speckled full of sprinkles and also happened to be gluten-free with a dairy-free paleo option, then you are going to love these! They're so ridiculously tasty, and come to you today to celebrate Lexi's Clean Kitchen turning 6 years old this month!
Healthy Brownies: If you are looking for fudgy, chewy and and ridiculously chocolate-y Paleo Brownies than this is the recipe for you! These healthy gluten free brownies are made with almond flour, they're grain-free, optionally dairy-free and simple to make.
Maple Meringue Cookies: They are simple, crunchy, light, naturally gluten-free, and perfect to have for entertaining or for a treat. Thesy are also refined sugar free, light, and the perfect beautiful cookie everybody will love!
Sugar Cookies: These buttery sweet cookies have a soft vanilla flavor, a crisp exterior and a soft and chewy middle, just like any good sugar cookie should have. Better yet, they are simple to prepare using only a handful of ingredients and needing just a bowl and spoon to make the batter.
Avocado Brownies: These dense and fudgey brownies have a secret ingredient that's packed with nutrients and healthy fats, and nobody will know it! Chocolate Avocado Brownies are the perfect sweet treat to end a meal or even to pack in the lunch box with the kiddos. They're flourless and Paleo friendly without any refined sweeteners.
Double Chocolate Macadamia Cookies: These Double Chocolate Chunk Macadamia Nut Cookies are the perfect gluten-free and paleo-friendly cookie that everyone will love! Soft, chewy, and bursting with chocolate and macadamia nuts! A household favorite!
Snickerdoodles: There are a MUST MAKE recipe. These chewy little cookies are spiced just right, easy-to-prepare and perfect for the holidays, or year round. The dough is made in 1-bowl, then rolled in a cinnamon and sugar mixture. They are free from gluten, grains and refined sugar but still perfectly delicious.
Peanut Butter Blossoms: They have all the flavor of the traditional, but using better-for-you ingredients! These peanut butter cookies cookies are easy-to-prepare and perfect for the holidays, or year round. The dough is made in 1-bowl and they are free from gluten, grains and refined sugar but still perfectly delicious.
Strawberry and Chocolate Ganache Sandwich Cookies: The cutest sweet treat, made even nicer because they are optionally free of the 14 most common allergens. Gluten free strawberry cookies are sandwiched between a dairy-free chocolate ganache with hidden strawberry jam in the middle.
Oatmeal Raisin Cookies: So perfectly chewy, soft, and delicious! The combination of cinnamon, chocolate, and raisins in these are heaven. No one will be able to tell that these are gluten-free and refined sugar-free!
Cut Out Cookies: These Gluten Free Cut Out Cookies are the best for decorating holiday cookies! They are so simple to put together, can be rolled out immediately and decorated (or not) to celebrate any holiday! These versatile cookies are made with only 5 ingredients (plus a pinch of salt!) and are a great activity to do with the kids.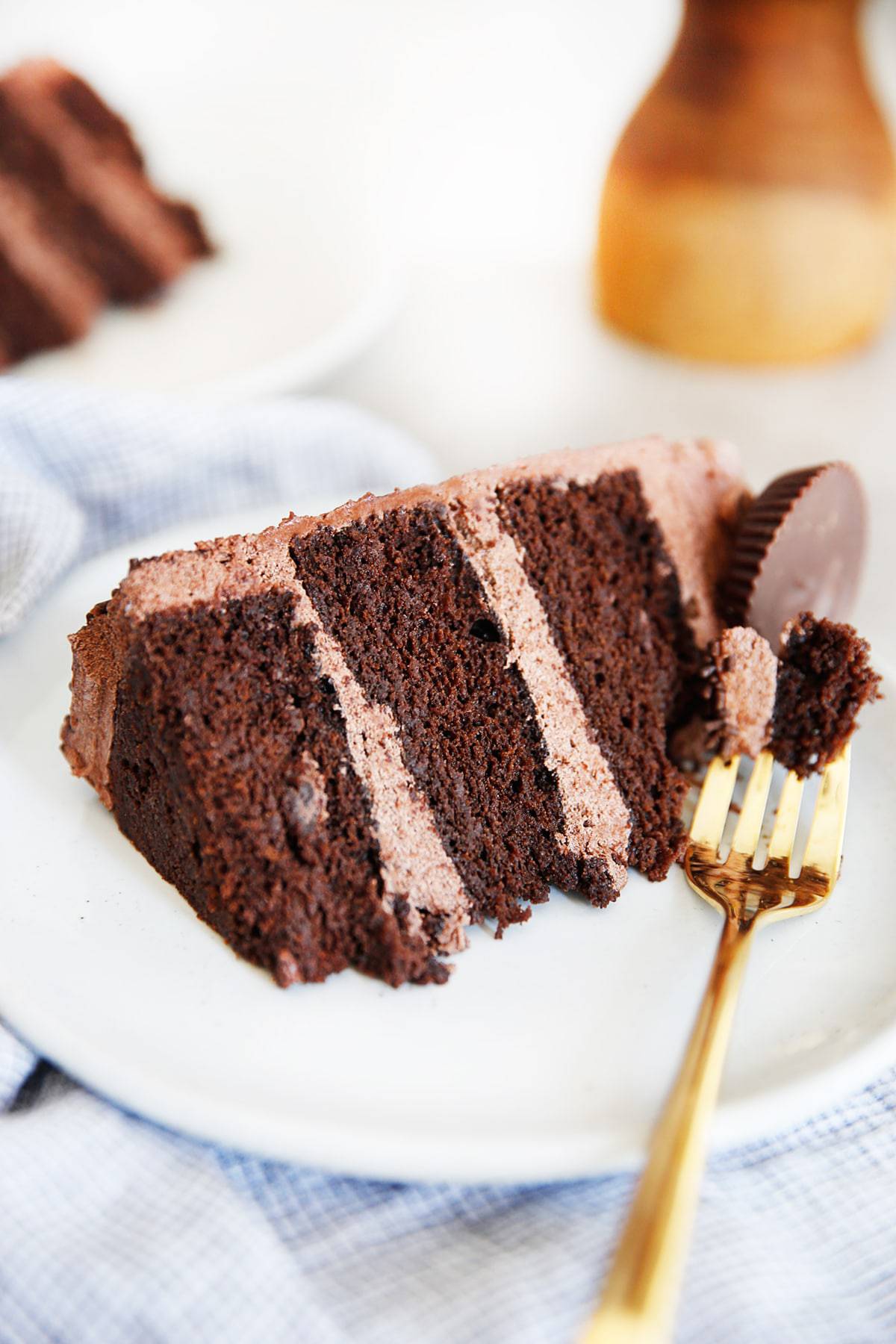 Healthier Cakes and Cupcakes
Gluten-Free Carrot Cake: This healthier, more nutrient dense take on the classic carrot cake is gluten-free, dairy-free, paleo friendly and made without any refined sugars! It can be topped with a classic cream cheese frosting, or made dairy-free with homemade fluff. Either way it will be welcome at any celebration or holiday dinner (or just a regular tuesday afternoon)!
Caramel Upside Down Apple Cake: This one is unbelievably simple to make and so delicious. It's grain-free, nut-free and dairy-free but with no shortage of delicious apple cinnamon flavor. It's perfect to serve up for Rosh Hashanah or to whip up for a weekend baking project after you've gone apple picking.
Hostess Cupcakes: Now this one is a fun weekend baking project! It starts with a super moist gluten-free chocolate cupcake, filled with homemade marshmallow fluff (made without any refined sugar) and dipped in a dairy-free chocolate ganache! Pipe on either some of the marshmallow fluff or melted white chocolate to complete the classic hostess-style cupcake look!
The BEST Gluten-Free Layer Birthday Cake: A vanilla cake with vanilla frosting that is free from gluten and grains but still so delicious! A classic recipe!
Paleo Cupcakes With Matcha Coconut Buttercream Frosting: These Paleo Cupcakes With Matcha Coconut Buttercream Frosting are seriously amazing! The creamy matcha and coconut buttercream frosting pairs so perfectly with the fluffy vanilla cupcake.
Gluten Free Chocolate Cupcakes: Everyone needs an amazing chocolate cupcake recipe, and this one is ours! These are moist with a deep chocolate flavor and simply delicious. They're also dairy-free and made without any refined sweeteners. Grab a bowl and a whisk and head straight to the kitchen to whip some up!
Simple and Festive Vanilla Cake with Fruit: Whether you are headed to a BBQ with family or friends or hosting a get together of your own, you'll need a classic festive cake for the all the parties! Let's make the most perfect (AND nut-free) vanilla cake topped with an easy buttercream and garnished off with tons of fresh fruit (red and blue for good measure)!
Raspberry Swirl Brownies: Nothing in this world is better than chocolate and raspberry together and that's why these brownies are the absolute best. You know what else makes these the best? They're a decadent treat that's on the healthier side by using coconut oil and almond flour. That means they're also grain-free, dairy-free and Paleo, while still being totally delicious.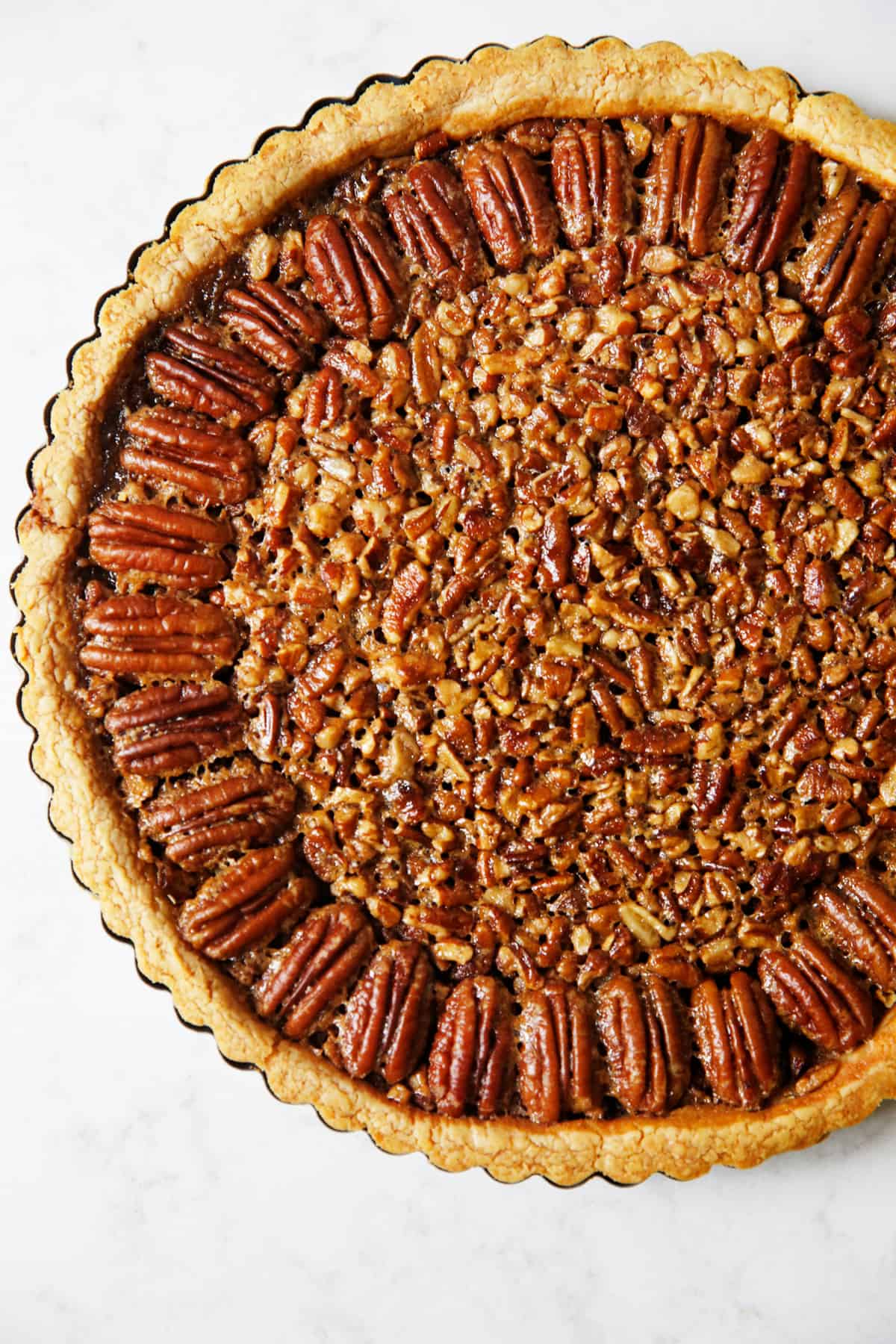 Healthier Pie Recipes
Nut-Free Pumpkin Pie This Gluten Free Pumpkin Pie is smooth and creamy (without any cream) with just the right note of spice. It's made using our nut-free and gluten-free crust that is so simple to put together!
Blueberry Pie: The perfect dessert to serve at a backyard summer party or potluck! It's juicy and sweetened just right (using unrefined sweeteners) and will be a hit with everyone! It's gluten-free, with dairy-free options and can be made with either fresh or frozen blueberries. Let's get baking!
Key Lime Tart: Made using honey and coconut milk for a rich, tangy and smooth filling! It's simple to prepare and can be optionally topped with a honey meringue for a showstopper dessert. It's gluten-free and made without any refined sugars.
Classic Apple Pie This classic pie has a buttery crust with thinly sliced juicy apples laced with cinnamon and nutmeg. It's made using unrefined sweeteners and uses the best gluten-free crust.
Pecan Pie: This Pecan Pie made in a tart pan is absolutely stunning, yet simple to put together. And the best part? It's made without any refined sugar or corn syrup!
Classic Desserts Made Healthier
Creme Brûlée: This dairy-free and refined-sugar free version is just as decadent as the classic version but lightened up with a secret healthy ingredient! It's perfectly sweetened with a blend of honey and maple sugar and despite it feeling fancy it is really easy to make.
Healthy Rice Pudding: The perfect, lightened up version of the creamy rice pudding recipe you grew up loving. It's vegan, gluten-free, and refined sugar free and is hands down the perfect hearty dessert!
Paleo Banana Bread: The ultimate gluten-free banana bread that is freezer-friendly, using almond flour and coconut flour and very little added sugar! It's taken me years to perfect this recipe, and I finally achieved the exact texture I wanted for the ultimate, easy, banana bread that is freezer-friendly, too! Perfect for a holiday morning, or a snack anytime of the week!
Classic Chocolate Mousse: It's a rich, fluffy, chocolate-y treat with just the right amount of sweetness. It will absolutely be a staple healthy dessert for holiday entertaining! Made with minimal ingredients and no baking required, everyone will love this no fuss dessert!
Gluten Free Lemon Bars: They're creamy and delicious, and best of all: so easy to make. Bring them along to your next pot luck or BBQ and everyone will be thanking you!
Vegan and Paleo Caramel: This healthier caramel is not only super delicious, but it's also easy to make! We've tested three different versions using unrefined sweeteners for all of your caramel needs!
2 comments
February 9, 2020
Click to edit CSS
Click to edit CSS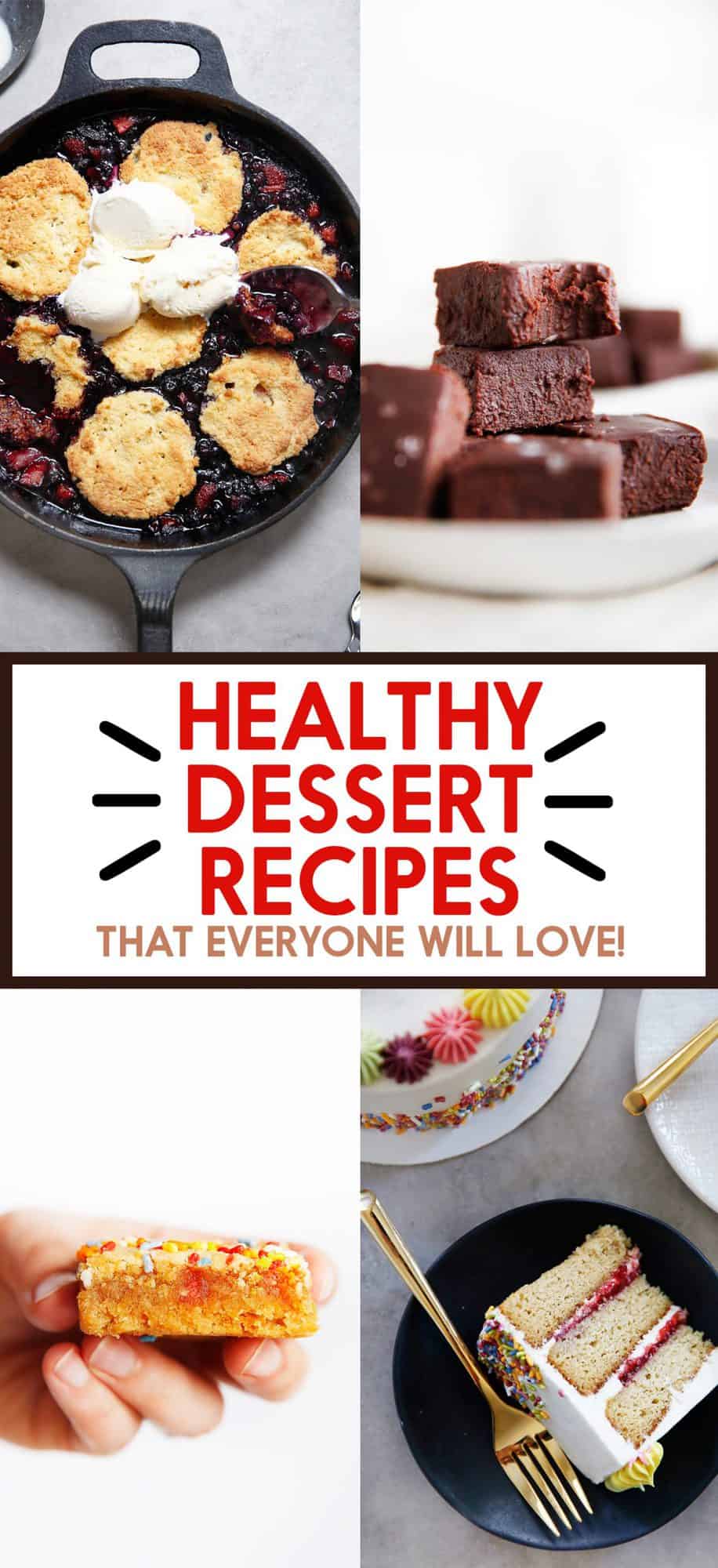 This website may at times receive a small affiliate commission for products that we shared with you in our posts. Although we may receive a commission for linking certain products, there's no additional costs to you and all of our opinion and suggestions are 100% our own and unbiased. That's our promise to you!
Subscribe to get our FREE clean eating guide!
Join our email list TODAY to start recieving our newsletter weekly, access to exclusive content and deals, *and* a FREE complete 24-page clean eating guide!