Fall is actually here, which means it's time for all things comfort food! But that doesn't mean it can't be healthy, too! We've got a great list of our best Healthy Fall Recipes starting with breakfast and ending with dessert. And all fall long we will be adding to this list as we have new recipes, so go ahead and bookmark this page so you can cook your way through all the best pumpkin, apple and lightened-up comfort food classics!
The Best Healthy Fall Recipes
It's that time of year when everyone wants to get into the kitchen to get cooking and baking, and especially for all things comfort food, this year more than ever before! So we are sharing all of our new and old favorite fall classics.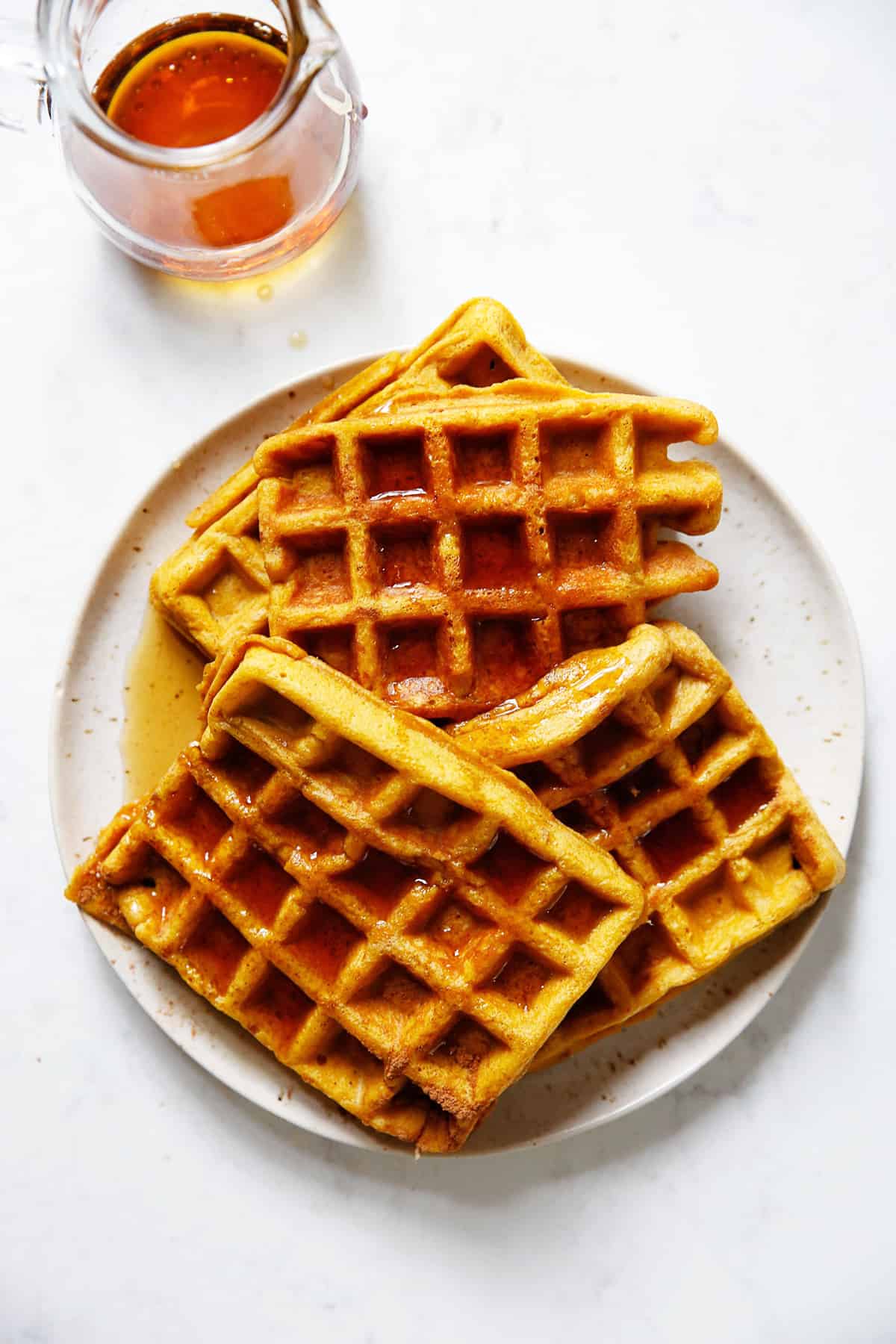 Healthy Breakfast Ideas
Apple Baked Oatmeal: This Apple Cinnamon Baked Oatmeal recipe is just what you need to make for breakfast! It is as good freshly baked as it is for meal prep. This classic flavor combination smells so good when it is baking, and bonus it's so easy to put together. This dairy-free and gluten free oatmeal bake doesn't contain any refined sugars and is a great fiber-rich and filling breakfast or snack.
Apple Scones: These Gluten-Free Apple Scones are the perfect fall baking recipe. They are light and crumbly and full of apples and cinnamon. They are such a treat to serve to serve on crisp fall morning! This scone will be the hit of your weekend brunch, the star of the dessert table, or the perfect snack!
Sheet Pan Chorizo Egg Bake: This Sheet Pan Chorizo and Egg Bake is probably my new favorite breakfast. It's hearty, packed with the perfect amount of spice, and made easy with only one pan. It's gluten-free and paleo-friendly and the perfect breakfast everyone will enjoy!
Cranberry Pumpkin Crumble Muffins: These Pumpkin Oat Muffins are the real deal. They are made with oat flour, packed with cranberries and topped with the best oat crumble. They are easy to make, so delicious and make a great on-the-go breakfast or holiday brunch muffin.
Fall Breakfast Skillet: This Fall Hash Brown Breakfast Skillet is packed with all of the quintessential flavors of autumn! It's the perfect hearty weekday breakfast (or brinner), and great for a weekend brunch! Hearty, nutrient-dense, and delicious!
Gluten Free Cinnamon Rolls: These Gluten Free Cinnamon Rolls are made using primarily oat flour and coconut flour. The gluten-free dough is surprisingly easy to work with, and doesn't require a double rise which means you can have fresh cinnamon rolls from start to finish in less than two hours.
Golden Milk Overnight Oats: These Golden Milk Latte Overnight Oats are the perfect make ahead breakfast that is hearty, nutrient-dense, and delicious! They require absolutely no cooking and make for a perfect anti-inflammatory overnight oats recipe.
Gluten Free Pumpkin Waffles: These waffles are going to be the star of the breakfast or brunch table! You wouldn't know these waffles were made without flour and they're a cinch to put together using only one bowl. They are fluffy on the inside and crispy on the outside and full of pumpkin flavor!
Shakshuka: This easy Shakshuka recipe is hearty, flavorful, and the perfect breakfast, brunch, or even DINNER. It's paleo, whole30, gluten-free, and packed with flavor! It's a one pan dish that requires minimal clean up!
Apple Pie Chia Pudding: This Apple Chia Seed Pudding is the perfect make-ahead breakfast! It is a delicious egg-free breakfast option that everybody will love, and the topping taste like a healthy apple pie filling! This seasonal breakfast is gluten-free, paleo and vegan.
Pumpkin Oatmeal Bake: This Pumpkin Oatmeal Bake is here just in time for the cooler weather and is the perfect make-ahead breakfast. This 1-bowl breakfast bake is dairy-free, gluten-free and made without any refined sugars. Keep it all about the pumpkin flavor as-is, or add in chocolate chips, nuts or dried cranberries for a twist.
Morning Glory Muffins: These gluten free Morning Glory Muffins are light, moist, flavorful, and filled with a variety of good-for-you ingredients! They make for the perfect start to your day.
Paleo Breakfast Hash: This Loaded Paleo Breakfast Hash is such a delicious hash for weekend BRUNCH or when you are craving breakfast for dinner! The spicy chicken sausage and bacon pair so perfectly with the sweet potato, onions, and peppers. It can be eaten as is for a veggie and protein filled breakfast, or topped with an egg!
Savory Breakfast Sausage Oatmeal: Savory oatmeal with breakfast sausage is a great start to the day, filled with fiber and protein and so delicious. It's gluten-free, optionally dairy-free and a great make-ahead breakfast idea.
How to Make French Toast Sticks: These French Toast Sticks are such a fun (and easy) breakfast to have on hand year long, but especially with the busy (and strange) school year we have coming up!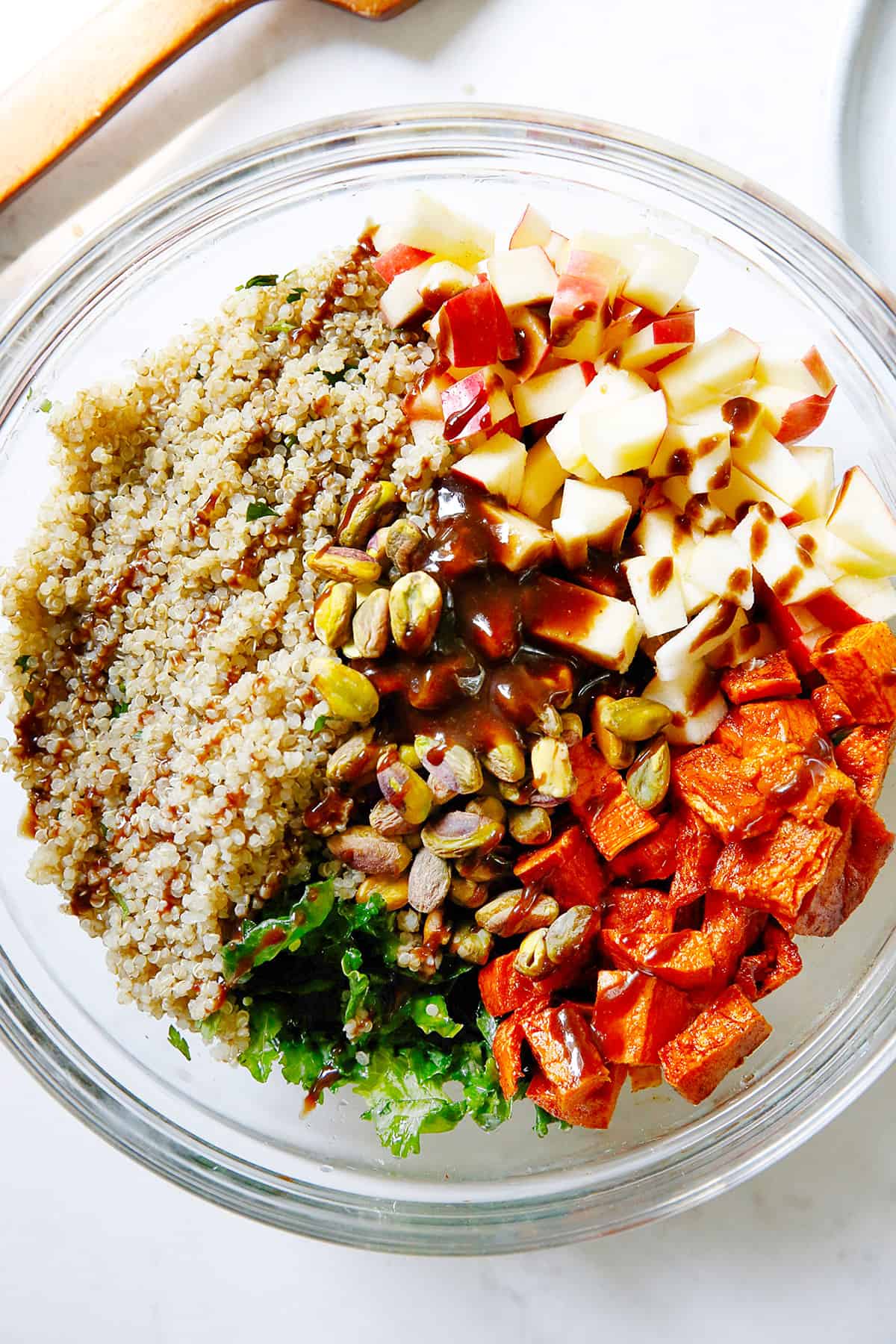 Healthy Fall Appetizers and Side Dishes
Roasted Eggplant Dip: Make This Roasted Eggplant Dip while eggplant is still around in early fall. It is such a delicious and healthy appetizer or snack for weekend entertaining! You will not believe how simple the dip is to prepare. It's also gluten-free, dairy-free, Whole30 and Paleo friendly. Serve with some delicious homemade crackers and veggies and you've got an appetizer win!
Pigs in a Blanket: These Gluten Free Pigs in a Blanket are as perfect for a large holiday gathering as they are for game day eats. They are made using an easy gluten-free and nut-free dough that doesn't need any chilling time. These are a sure crowd pleaser for both kids and grown-ups alike!
Healthy Spinach & Artichoke Dip: Bound to be a hit at your next party, this Healthy Spinach Artichoke Dip has all that creamy flavor without any dairy. This paleo, vegan and Whole30 friendly appetizer is simple to put together and nobody will know this isn't the classic version.
Cauliflower Hummus: This non-traditional hummus style recipe is so simple to put together and is a great vegan and legume-free alternative. It's Whole30, Keto and Paleo friendly and truly you wouldn't notice it wasn't traditional hummus.
Buffalo Chicken Dip: This 5-Ingredient Buffalo Chicken Baked Hummus Dip is the perfect lightened-up appetizer to serve for game-day or for any gathering! It is simple to prepare, made with minimal ingredients, has all of the buffalo chicken flavors you love, and it's made with a healthy, creamy alternative: hummus.
Bacon and Chive Deviled Eggs: These Deviled Eggs with Bacon and Chives are your answer for an easy-to-make appetizer to please a crowd! They are so delicious and can even be made ahead of time! The addition of bacon and chives bump these deviled eggs up to the next level! These are great to serve during the holidays but also make a great protein filled snack for any time of year and are compatible with Keto, Paleo and Whole30 diets!
Maple Roasted Brussels: If you are looking for a versatile side dish that works for both a quick weeknight meal or a decadent holiday dinner look no further than this Maple Roasted Brussels Sprouts with Bacon recipe! Cooking the brussels sprouts with bacon and maple syrup is sure to make this side dish a fan favorite for everybody! This paleo-friendly recipe is sweet and savory and definitely going to be in your winter meal plan rotation!
Honey Glazed Carrots: These Honey Glazed Carrots are the perfect fuss-free side dish. They're cooked in one pan and result in the most tender, slightly sweet glazed carrots. They are so good they are borderline addictive and both kids and adults will love them! They're paleo friendly and easily made dairy-free and a great addition to a holiday feast or a special weekend dinner.
Instant Pot Mashed Potatoes: Creamy, comforting and quick to make, this recipe for Instant Pot Mashed Potatoes should be kept on stand-by for busy days when you need a simple, yet delicious side-dish. Once you make them in the Instant Pot, you'll never go back! This recipe also offers options to make this dish dairy-free, Whole30 and Paleo-friendly.
Cinnamon Roasted Sweet Potatoes: These three-ingredient roasted cinnamon sweet potatoes make for the perfect sheet-pan side-dish! If you haven't tried the combination of cinnamon and sweet potatoes yet, this is a must-make! So simple, caramelized goodness, and so full of flavor!
Apple, Sweet Potato and Kale Quinoa Salad: This Kale Quinoa Salad is the ultimate Fall salad! Packed with massaged kale, cooked quinoa, diced apples, roasted sweet potatoes, pistachios, and the perfect maple balsamic dressing; it's an Autumn salad everyone will love!
Classic Baked Potatoes: Nothing beats a classic baked potato, with a creamy interior, and a crispy exterior. We're talking all about How to Make Baked Potatoes and our favorite ways to serve them to inspire your side dish game.
How to Make Risotto: Risotto is a classic Italian dish that consists of the rich creamy rice that is slowly cooked with shallots, wine and broth and peppered with parmesan cheese. While this dish isn't hard to make, there is a technique to it. We're sharing all of our tips for How to Make Risotto so you can make this restaurant-quality meal at home.
Warm Harvest Salad with Honey Walnut Vinaigrette: This Harvest Salad has all the ingredients you'll want in a Winter kale salad recipe! Packed with chopped kale, roasted squash, pomegranate seeds, toasted pecans and topped with a super easy & delicious Maple Balsamic Dressing for the absolute perfect holiday salad all Fall and Winter Long!
Healthy Fall Recipes for Soup
Egg Roll Soup: This Egg Roll Soup is an easy, weeknight dinner that is full of the flavor of an egg roll, without any of the fuss of wrapping and frying! This veggie and pork soup is family friendly and would make great leftovers! We also offer options to make it vegetarian, and it's already Paleo, Whole30 and Keto friendly too!
Slow Cooker French Onion Soup: This gluten-free and healthy Slow Cooker French Onion Soup is comfort food at it's finest. It's made using simple ingredients you likely already have in your pantry, is largely hands-off cooking, is an economical meal and is so rich and flavorful. It can be eaten as is as a light soup, or more traditionally topped with melted cheese and either store-bought or homemade bread.
Instant Pot Southwest Chicken Soup: A take on the classic soup with chicken, beans, corn and tomatoes. It is simple to make and can optionally be prepared ahead of time and stored in the freezer. It's as easy as placing all the ingredients in a freezer bag and stashing it away until you are in need of a quick weeknight. Simply defrost in the refrigerator overnight and place everything in an Instant Pot to cook at dinnertime!
Black Bean Soup: This Black Bean Soup is a 30-minute, one-pot vegan recipe! It's creamy, healthy, and loaded with flavorful seasonings. Garnish with your favorite toppings and serve it warm or enjoy it cold as a black bean dip!
Wild Rice Soup with Turkey or Chicken: This Turkey Wild Rice Soup recipe is the perfect lunch or dinner to whip up after a great Thanksgiving meal. If you don't have turkey leftovers, no problem because it also works great with leftover shredded chicken as well! This easy to prepare soup is full of veggies, it's warm and hearty and so delicious!
Hot and Sour Soup: This vegetarian Hot and Sour Soup is a super flavorful and easy weeknight dinner that comes together quicker than it takes to order from your neighborhood takeout! It's packed full of veggies, is so warm and comforting, and a healthier option because you control the ingredients that go in to it! This easy soup is gluten and dairy free, low carb and with options for paleo and whole30 friendly.
Chicken Pot Pie Soup: This easy deconstructed chicken pot pie recipe is a classic comfort made quick! This hearty chicken pot pie soup is topped with biscuits for a quicker, yet equally as comforting family dinner. It is made gluten and grain free with paleo and dairy free options!
Instant Pot Loaded Potato Soup: This soup taste just like a loaded baked potato! It's creamy and topped with all of your favorite baked potato toppings. This comfort food soup is gluten-free and optionally made dairy-free!
Turkey Chili: This is healthy comfort food in a bowl because it's hearty and satisfying for all of those chilly days. It is perfect for a big gathering, football Sunday festivities, or for a good weekly meal prep option since there are tons of leftovers! Make it on the stove-top or right in your Instant Pot pressure cooker for an easy turkey chili recipe! Simply swap out turkey for beef to make the best beef chili recipe!
Easy Pumpkin Soup: This Easy Pumpkin Soup is creamy, flavorful, smooth, and garnished just right with Chili Garlic Oil and roasted pumpkin seeds! It's perfect for the fall season, and for any holiday gathering! This soup comes together quickly and is paleo-friendly!
Roasted Poblano and Chicken Soup: This Roasted Poblano & Chicken Soup is the perfect one-pot soup for any day of the week! Flavorful, light & hearty, and packed with good-for-you ingredients. The perfect soup for when you are craving a hearty soup with just the right amount of spice!
Easy Lasagna Soup: This Lasagna Soup recipe is gluten-free, made in one pot or in the slow cooker, is simple to prepare, loaded with flavor, and reminiscent of the classic lasagna flavors we all love! This is such a fun and hearty soup to serve any night of the week, and you'll have leftovers, too!
Meatball and Veggie Soup: Studded with turkey meatballs and filled with veggies, this soup feels both light and satisfying at the same time. This Meatball and Veggie Soup is family-friendly and would make great leftovers. Plus, it's customizable based on what veggies you have on hand!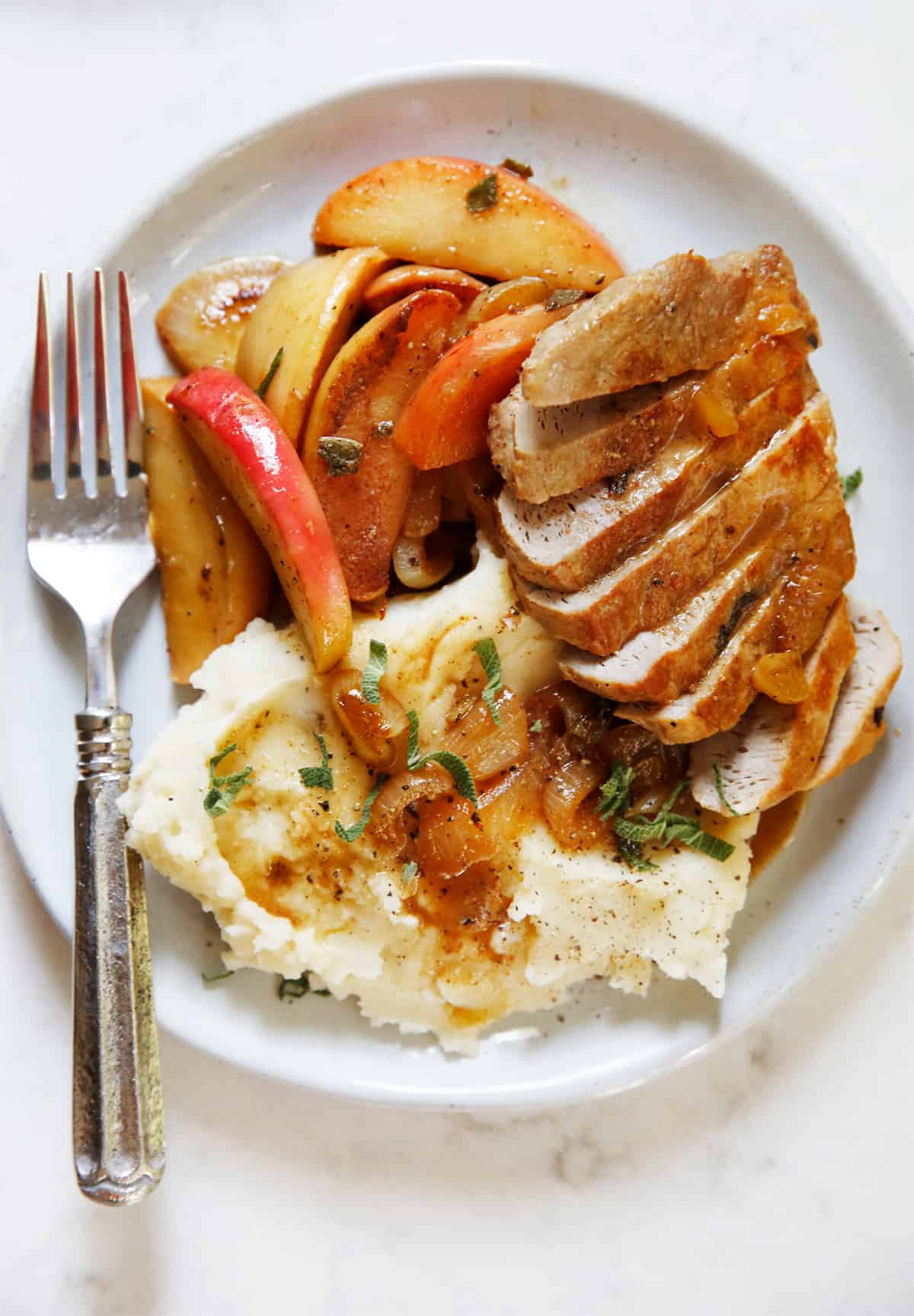 Healthy Fall Recipes for Dinner
Instant Pot Balsamic Chicken with Kale and Potatoes: Ready for the juiciest chicken breasts, perfectly cooked potatoes and braised kale in sweet balsamic glaze for dinner without even turning on the stove? Then this Instant Pot Balsamic Chicken is just what you need to make tonight! This dish is perfect for those hot steamy summer nights (or cool, lazy fall or winter ones) when you want to eat a home cooked meal but don't want to heat up the house. It's also gluten-free, paleo, low carb and whole30 friendly.
Skillet Pork Chops with Apples and Onions: This skillet Pork Chops with Apples recipe is the quintessential fall meal. The pork chops are perfectly cooked and paired with sweet and savory fall flavors like sage, apple cider and apples.
Creamy Mushroom Ricotta Pasta: I cannot stop making this creamy mushroom ricotta pasta! It's made in under 30 minutes, uses minimal ingredients, is a meatless dish, and is a hearty dinner (think super special, but not complicated), that will make everyone fall in love with mushrooms all over again.
Sheet Pan Kielbasa Sausage and Sauerkraut: This one pan dinner has unique flavors and is an easy way to get dinner on the table. Aside from prepping up a few veggies it's largely hands-off cooking which means more time in your life! It's Paleo and Whole30 friendly and will be a hit with the whole family.
Baked Chicken Thighs with Creamy Lemon Greens: A no-fuss dinner that everyone will love is this one-pan oven-baked chicken thigh dish! Bone-in chicken thighs are given a spice-rub and then baked up together with some greens and white beans before being tossed with lemon and greek yogurt for the perfect creamy citrus sauce.
Instant Pot Beef Short Ribs: These melt-in-your-mouth Instant Pot Beef Short Ribs are SO delicious and SO impressive but are SO easy to put together! And thanks to the Instant Pot, the braising time is slashed without sacrificing any of the flavor. This decadent dinner is naturally Paleo and Keto and Whole30 friendly and when paired with a side of quick cauli-mash will be the hit of the dinner table!
In-A-Hurry Meat Sauce (in under 20 minutes)!: This easy meat sauce recipe uses a jar of your favorite marinara sauce to get dinner on the table quick. Think of this as an elevated meat sauce. We're combining fresh ingredients with a jar of sauce to make a 6-ingredient staple sauce recipe, that tastes fancy and could not be easier to throw together! You can customize this spaghetti sauce with what you have in the fridge!
Instant Pot Mac and Cheese: Who knew the easiest way to make Mac and Cheese was in the Instant Pot? This creamy, comforting bowl of goodness is healthier than your favorite childhood boxed kind, but just as delicious and more! This recipe for Instant Pot Mac and Cheese is our new go-to way of cooking it and we know once you try it, it'll be yours too!
Healthy Hamburger Helper: Love that classic childhood boxed favorite, but want to make it all homemade and healthier? This Healthy Hamburger Helper recipe is your solution, and it's all made in one pot and so delicious!
Instant Pot Beef Stroganoff: This classic American dish comes together quickly, with minimal prep and mostly hands-off cooking thanks to the Instant Pot. It's made using REAL ingredients and is so hearty! Make sure to omit peas for Whole30 compliance.
Chickpea and Cauliflower Curry: Using just a few kitchen staples, this Indian-inspired curry is a meal everyone will love. This vegan dish is dairy-free and gluten-free and perfect for when you need a quick dinner solution! It's flavorful and so comforting.
Apple Sage Turkey Meatballs: These Apple Sage Turkey Meatballs are the perfect fall dinner. They're warm and comforting with just enough hint of spice to make you remember the season has changed. But even better is that you can have them on your table in under 30 minutes after coming home from fantastic fall activities! Oh, and they're paleo, gluten-free, and absolutely kid-friendly!
Easy Baked Ziti: Perfectly baked noodles, hearty meaty tomato sauce, and three different types of cheese all baked up together to make this classic dish. But just because it taste like a million bucks, doesn't mean it should be difficult to make! We're breaking it down to make the best Easy Baked Ziti for a hearty dinner tonight and leftovers for days.
Instant Pot Butter Chicken: It's creamy, perfectly spiced and oh-s0-delicious! It's a great weeknight dinner at the end of a busy day. This gluten and optionally dairy-free dinner is a one-pot meal, thanks to the rice that cooks alongside the chicken. It's guaranteed to be a new family favorite.
Whole Roasted Chicken Dinner: This Roasted Chicken Dinner recipe is the perfect one-pan-meal. The tender and juicy chicken is roasted with garlic and herbs and the accompanying vegetables are baked underneath the chicken. It's a hands-off meal that is easy to prep, so satisfying and versatile as it can be made with any veggies you have on hand.
Sheet Pan Herb Butter Salmon: This easy sheet pan dinner is packed with flavors straight from the farm! Use up that fresh basil, parsley, cherry tomatoes, and green beans in this Herb Butter Salmon with Blistered Tomatoes and Green Beans dish! It comes together in under 20 minutes and will be a hit with the entire family!
One Pot Cider Braised Chicken: This One-Pot Apple Cider Braised Chicken with Brussels Sprouts and Bacon is the perfect fall meal! Packed with vegetables and hearty autumn flavor, this dish will be the hit of any dinner, weekday or weeknight!
How to Make a Spatchcock Chicken: here is one trick you need to know in order to make the best whole roasted chicken, that cooks evenly and in the shortest amount of time possible: how to spatchcock a chicken! It may seem intimidating, but it couldn't be simpler to spatchcock chicken. Once you learn this trick, you'll never roast a chicken any other way!
Oven Baked Beef Taquitos: These are simple to make and are sure to be a new family favorite. Made using just a few wholesome ingredients, such as ground beef, refried beans and corn tortillas, these are perfect for a busy weeknight and are also freezer-friendly.
Instant Pot Cheesy Chicken, Broccoli and Rice: Can you ever go wrong when you add together rice, cheese, chicken and broccoli?It is an easy-to-make dinner that the whole family will love and made with a few simple whole ingredients.
Creamy Spinach and Artichoke Chicken: This Creamy Spinach and Artichoke Chicken is comfort food turned easy weeknight dinner! This optionally dairy-free dish is so creamy and tastes just like spinach artichoke dip but with fresh healthy ingredients served for dinner! This dish is Paleo, Keto and Whole30 friendly and so delicious!
Spaghetti Carbonara: This dish delicious pasta dish uses pantry staples and it's easy enough to make on a quick night, while having robust flavor. It uses minimal ingredients that are inexpensive and easy to find! You'll feel fancy and totally surprise your family and guests. Easily made gluten-free, too.
Creamy Pumpkin Casserole: This Creamy Pumpkin Casserole is my new favorite fall fish. This optionally dairy-free dish has pumpkin, spinach, and chicken and is topped with a delicious sauce and baked to perfection. It's Paleo and Whole30, too.
Sausage, Peppers, and Onions: This low-carb and keto-friendly Sausage, Peppers, and Onions is one-pan dish that will be a new weekly dinner staple. It's made in just twenty-minutes, is super easy to throw together, and is so delicious!
Gluten-Free Chicken Nuggets: This recipe uses a blend of almond flour and spices to make a crunchy and delicious chicken nugget that also happens to be gluten-free and easy to make! With instructions for making in the oven, air fryer or stovetop, these healthier chicken nuggets will make for a perfect quick dinner or meal prep that will make the whole family happy.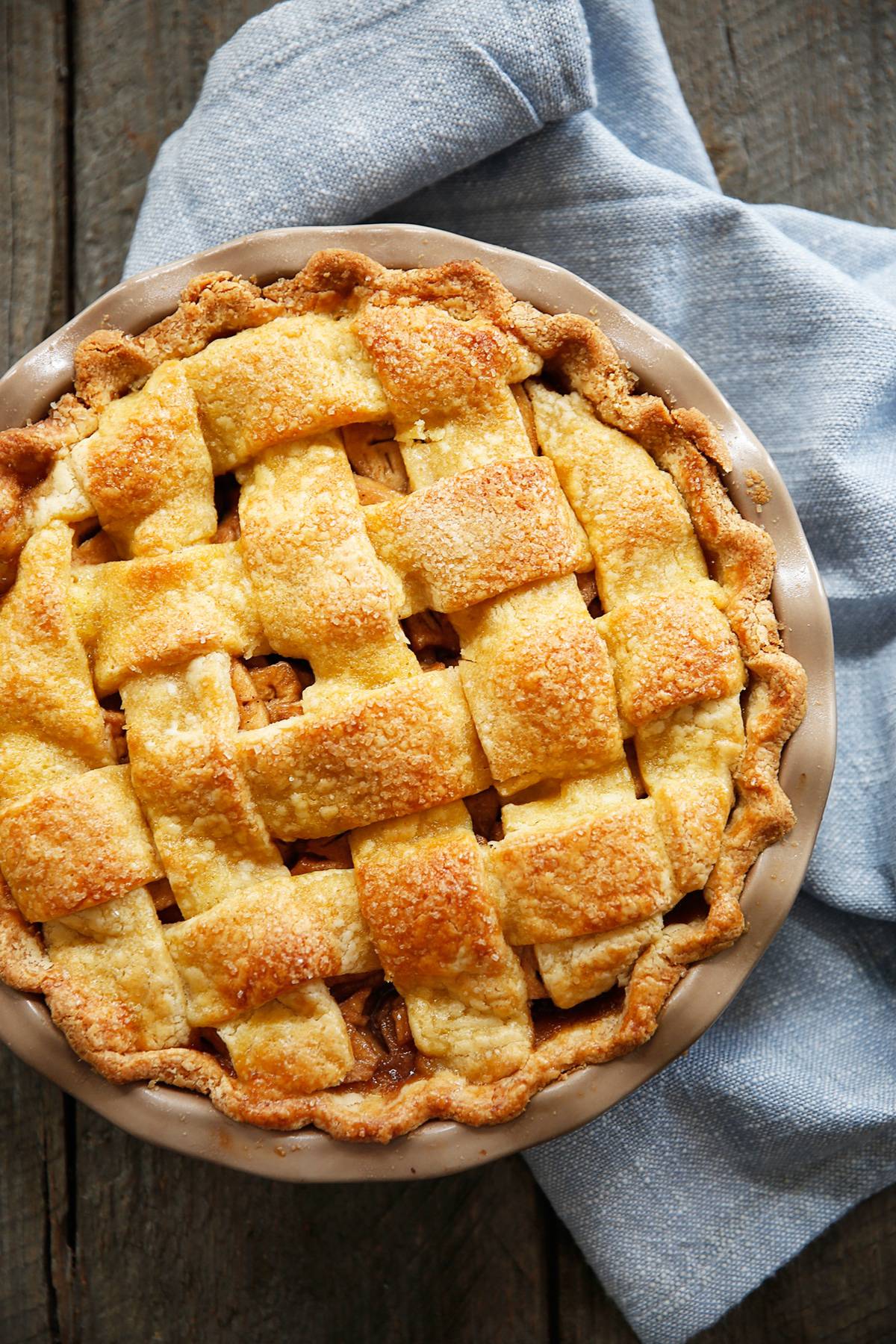 Healthy Fall Baking Recipes
Pumpkin Pie: This Gluten Free Pumpkin Pie is smooth and creamy (without any cream) with just the right note of spice. It's made using our new (nut-free) crust that is so simple to put together! It's the quintessential fall pie, destined to be the star of your holiday dessert table!
Gluten Free Pumpkin Biscuits: These Gluten Free Pumpkin Biscuits come together quickly and are made using a mix of almond flour and coconut flour. They can be made in under 30 minutes, and are perfect on their own served with a meal or as a dessert. We've included options to make them either sweet or savory.
Apple Pie: This Gluten Free Apple Pie has all the markings of the classic version we all know and love: a buttery crust with thinly sliced juicy apples laced with cinnamon and nutmeg. It's the perfect pie to serve during the holidays or a fun weekend baking project to mark the fall season! It's made using unrefined sweeteners and uses the BEST gluten-free crust.
Gluten Free Pumpkin Bread: This perfectly spiced loaf is so moist and made using a nut-free blend of coconut and tapioca flour. It's also dairy-free and refined-sugar free and the perfect weekend (or weeknight!) baking project.
Chocolate Chip Pumpkin Cookies: These Chocolate Chip Pumpkin Cookies are the perfect Fall treat! You can't go wrong with chocolate chip cookies, especially when they're flavored with the ultimate fall produce: Pumpkin! These cookies are also paleo friendly and gluten-free!
Apple Upside Down Cake: This Upside Down Gluten Free Apple Cake is unbelievably simple to make and so delicious. It's grain-free, nut-free and dairy-free but with no shortage of delicious apple cinnamon flavor. It's perfect to serve up for Rosh Hashanah or to whip up for a weekend baking project after you've gone apple picking.
Gluten Free Brownies: If you are looking for fudgy, chewy and ridiculously chocolate-y Paleo Brownies than this is the recipe for you! These healthy gluten-free brownies are made with almond flour, they're grain-free, optionally dairy-free and simple to make.
Apple Hand Pies: These Apple Hand Pies are such a great fall treat using my popular gluten-free pie crust recipe made with almond flour, and a classic apple pie filling that is heavy on the apple flavor, and perfect for so many things (hello pancakes & waffle topping)! They're gluten-free and the cutest thing to bake up with the bushels of fresh apples undoubtedly piling up in people's homes this fall! Plus, they are NOT hard to make!!
Cranberry Apple Crisp: This healthy, grain-free & paleo-friendly, Cranberry Apple Crisp is made with no oats, and is sweetened just right! It is the perfect healthier dessert for the holidays!
Gluten Free Pumpkin Cake: Almost healthy enough you can eat it for breakfast, this Gluten-Free Pumpkin Cake is a more nutrient dense take on the classic. It's moist, tender and totally delicious
Gluten-Free Spiced Apple Bread: This loaf is stuffed full of apples and raisins and is so moist. Made using a nut-free blend of oat flour and coconut flour, it's also dairy-free and refined-sugar free. It's the perfect weekend (or weeknight!) baking project, especially after a day of apple picking, that will be loved by everyone, gluten-free or not!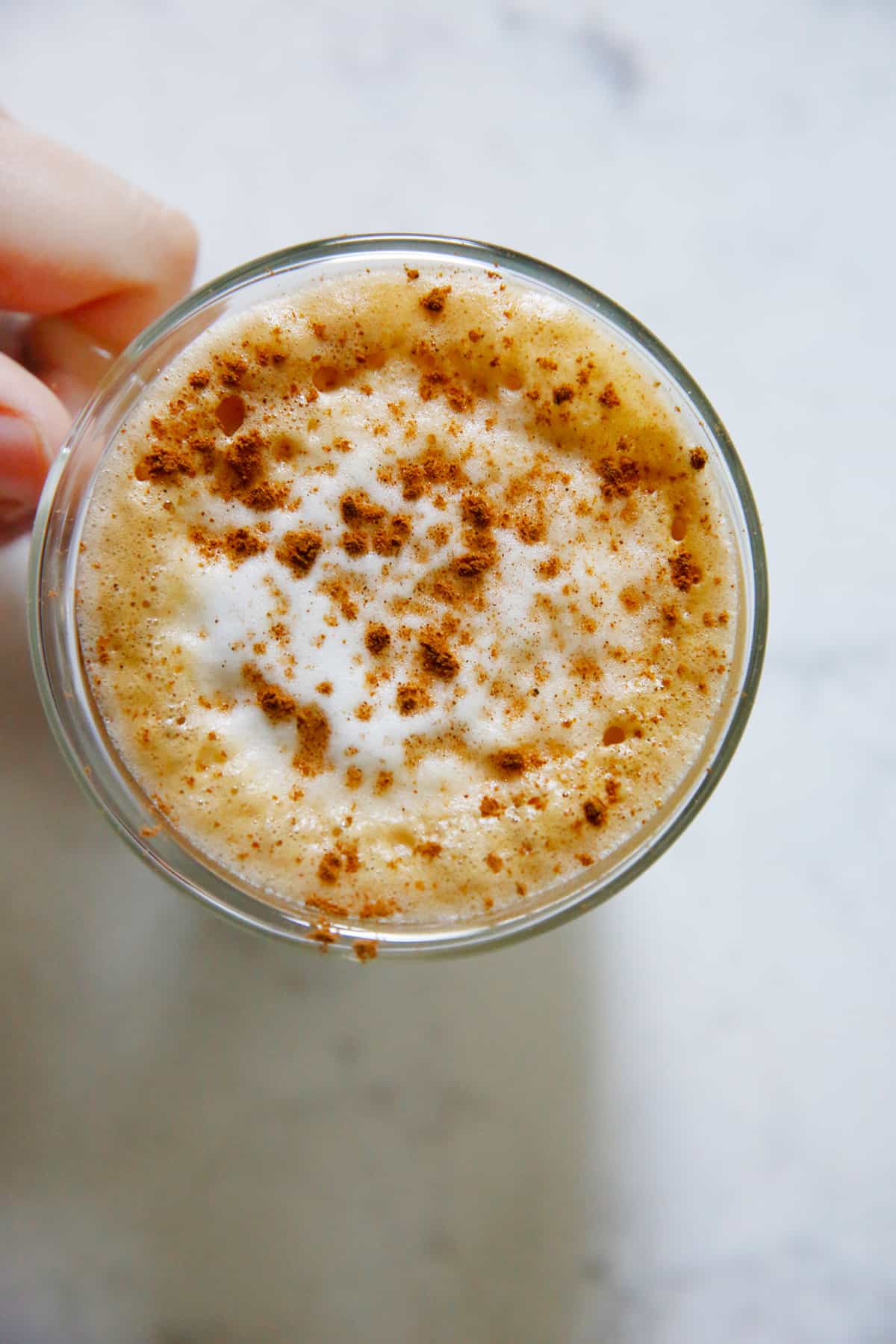 Other Must-Make Fall Recipes
Apple Cider Sangria: This Apple Cider Sangria is everyone's favorite Fall cocktail! It's flavorful, packed with cinnamon, ginger, apple cider, and white wine for the perfect dinner party sangria! Serve it with a caramel rim (or opt out for simplicity), make a large pitcher, and enjoy this easy fall cocktail!
Pumpkin Smash Cocktail: This Pumpkin Smash Cocktail, made with Stoli Gluten Free, has all the flavors of Fall in one delicious cocktail! The easy vanilla bean pumpkin syrup makes a batch large enough to whip up a number of cocktails, perfect for a dinner party and for Thanksgiving! Top it with candied pepitas for the perfect garnish.
Apple Nachos: These healthy Apple Nachos are an amazing kid-friendly snack that is both nutritious and fun! It can be made in under 10 minutes and is perfect to serve at a playdate or send to school to celebrate a birthday. They can be customized based off of what you have on hand and we guarantee will be a hit!
Easy Pumpkin Spice Coffee: This recipe for easy Pumpkin Spice Coffee can be made using your favorite regular coffee or made into a Pumpkin Spice Latte. It's refined sugar-free and customizable so you can make it dairy-free if you need to
Slow Cooker Pumpkin Butter: This smooth and creamy lightly sweetened spread is perfect for the fall. Made easily in the slow cooker, you can use it on everything from pancakes and waffles, on oatmeal or in your coffee. It's refined sugar free and paleo friendly.
Slow Cooker Apple Butter: This Slow Cooker Apple Butter has no added sugar and is my all-time favorite Fall spread. It's Whole30 compliant, paleo-friendly, and is so delicious! It's filled with in-season fresh apples and fall spices that will make you're home smell heavenly.
DIY Pumpkin Pie Spice: Pumpkin Pie Spice is ubiquitous come the fall, and we're not sad about it! Especially because it's so easy to make your own DIY Pumpkin Spice Blend and you get to control the quality of spices (and quantities) that are added to it! Plus, you'll likely already have what you need on hand at home in your spice cabinet so you can make it right now!
Instant Pot Apple Sauce: Naturally sweet (with no added sugar), and so delicious, this recipe for Instant Pot Apple Sauce is a must for when you return with arms full of apples from the orchards this fall. Once you make apple sauce in the Instant Pot, you'll never go back!
Gluten Free Apple Muffins: These gluten free apple muffins are easy to make, using just one bowl to put together! They make a great on-the-go breakfast or snack, will be a hit with picky kids and are 100% nut-free!
---
Pin for later: